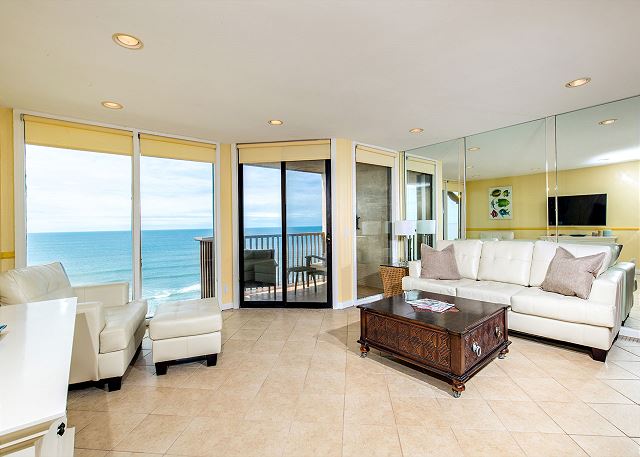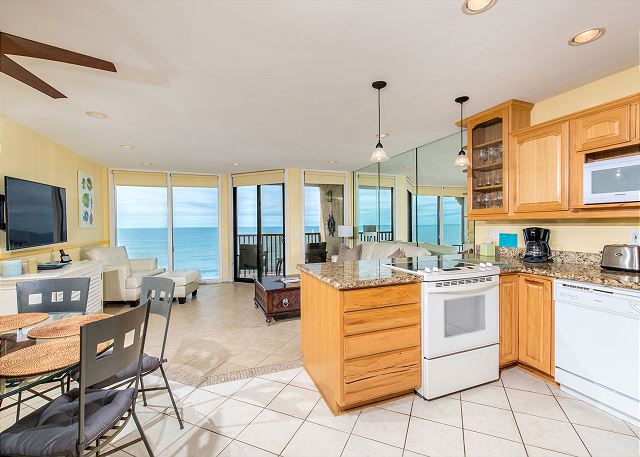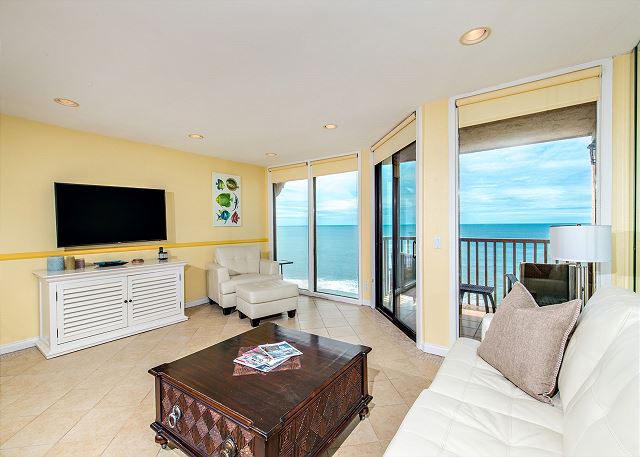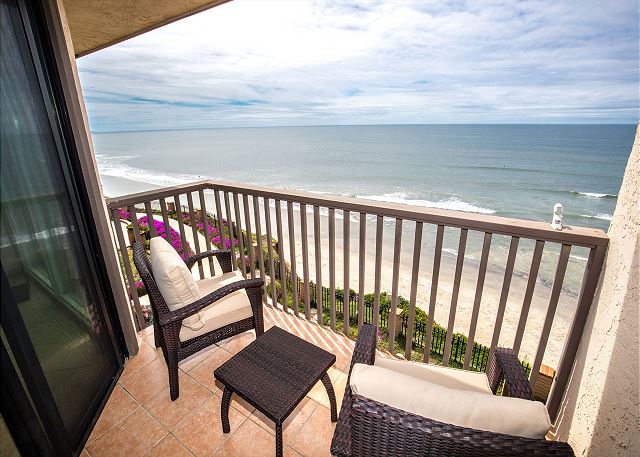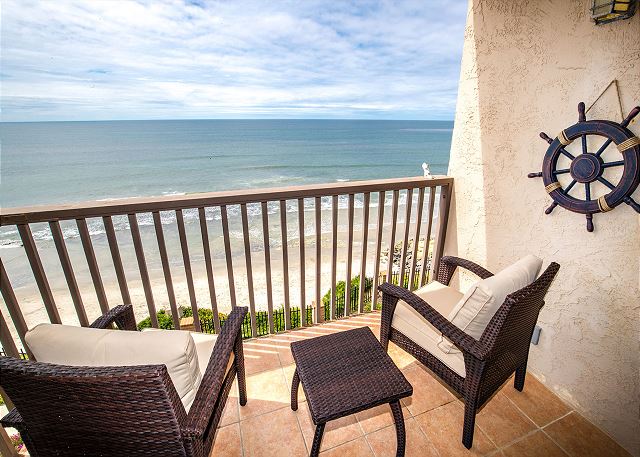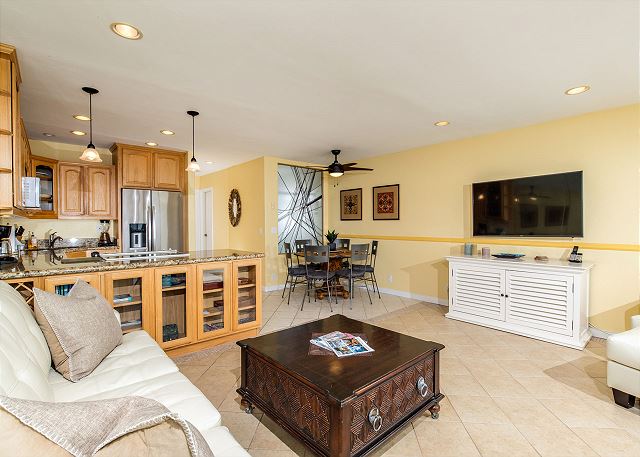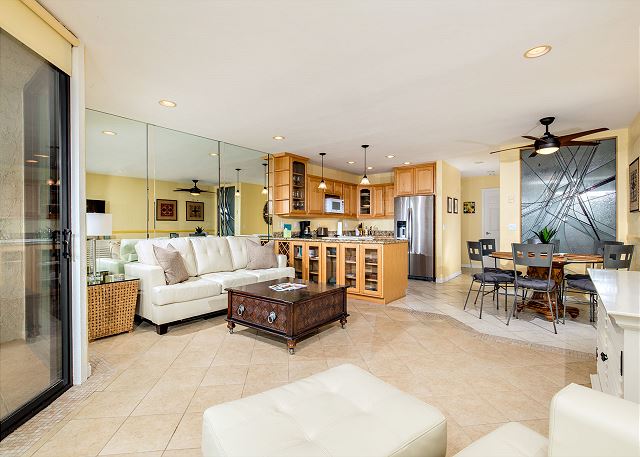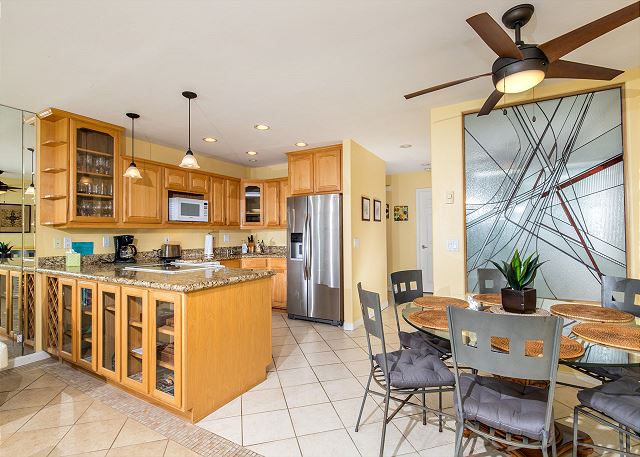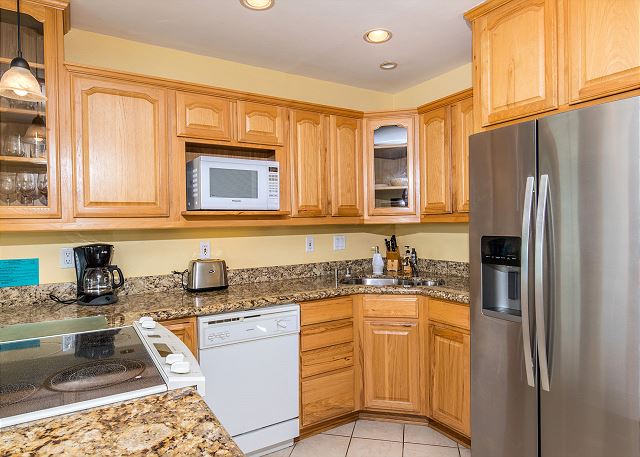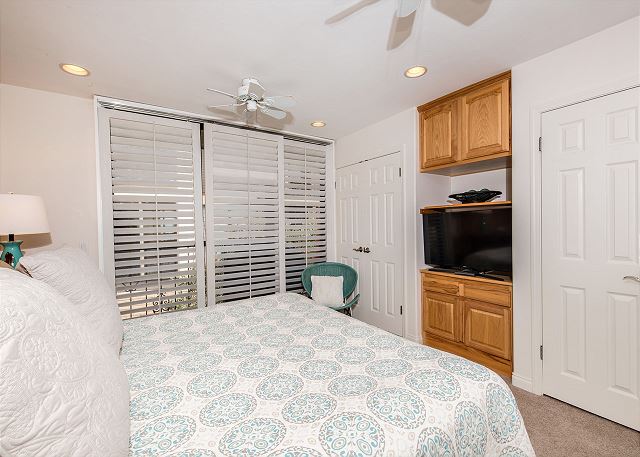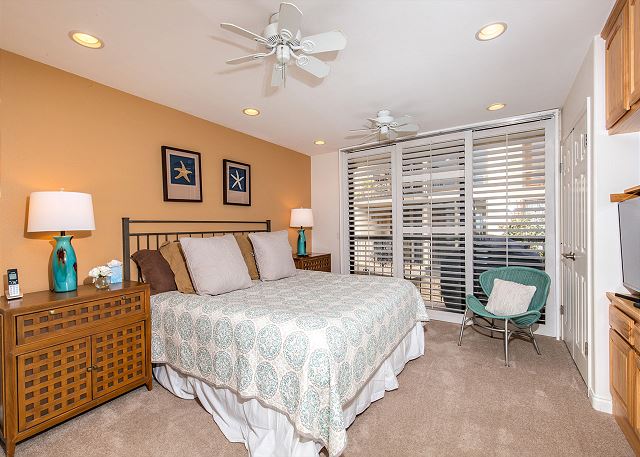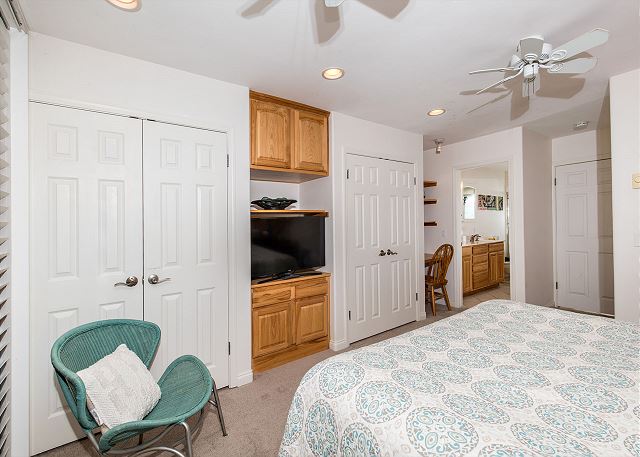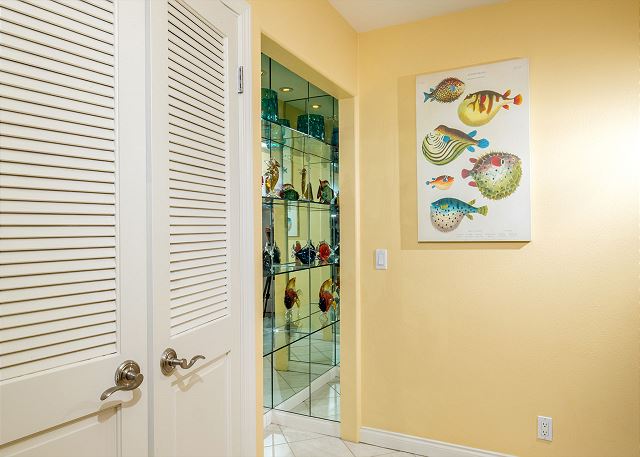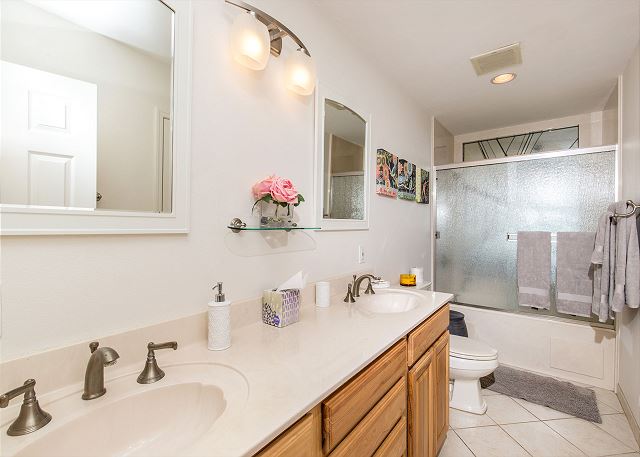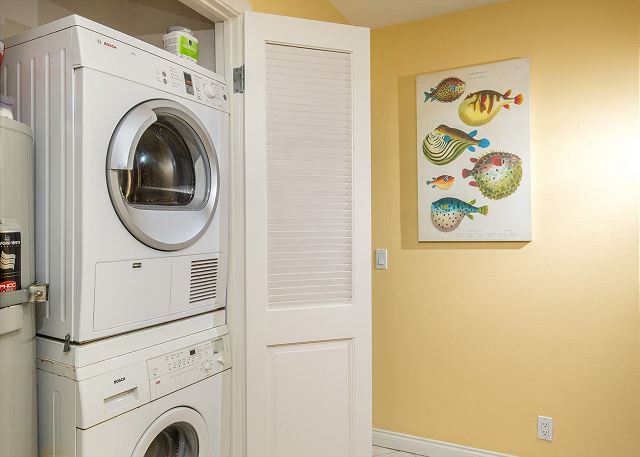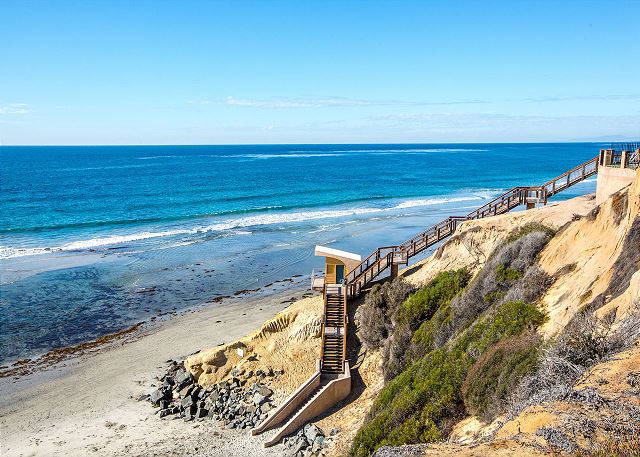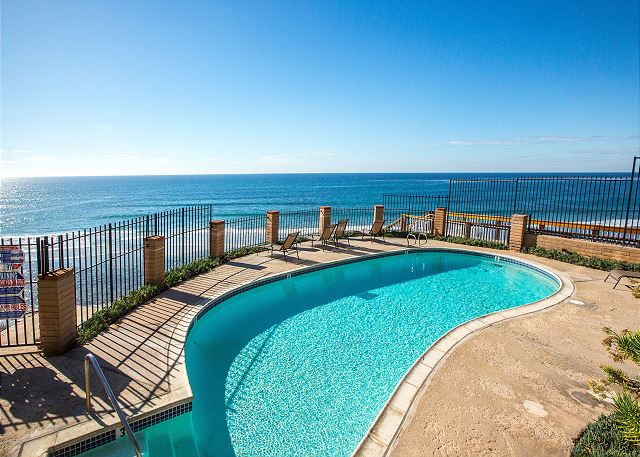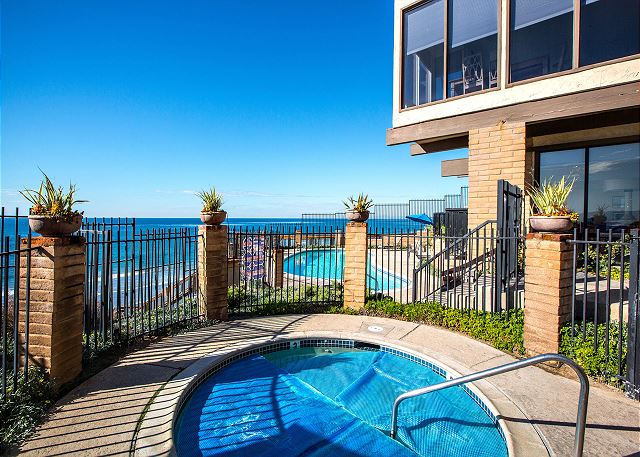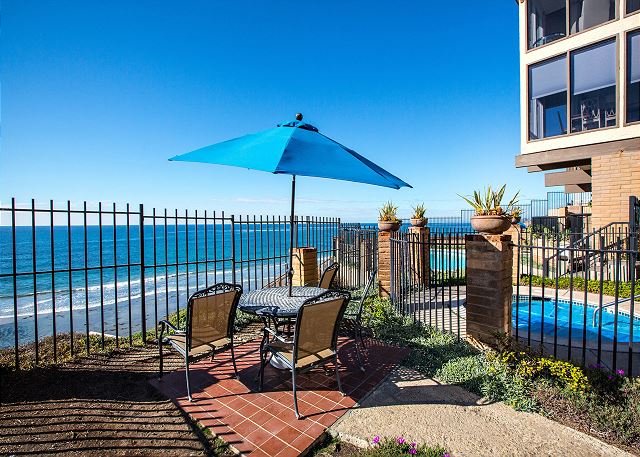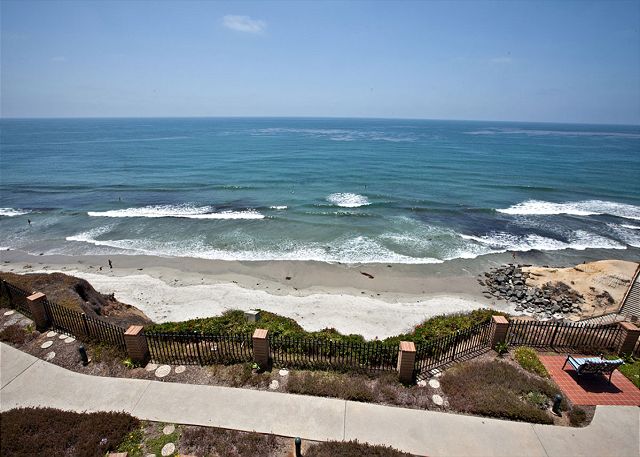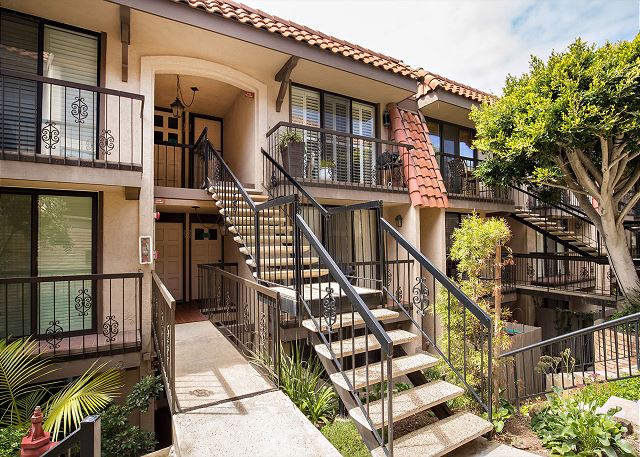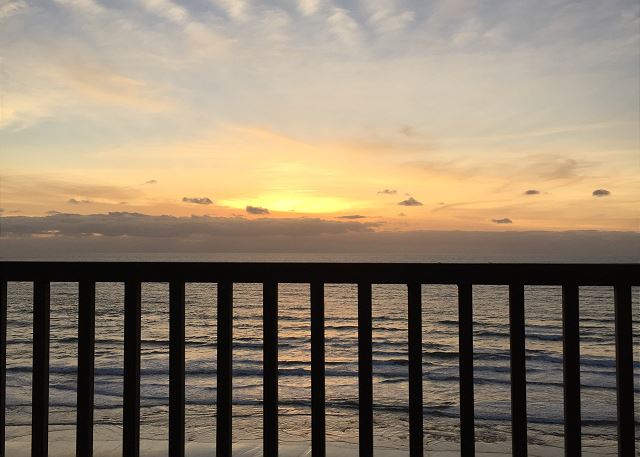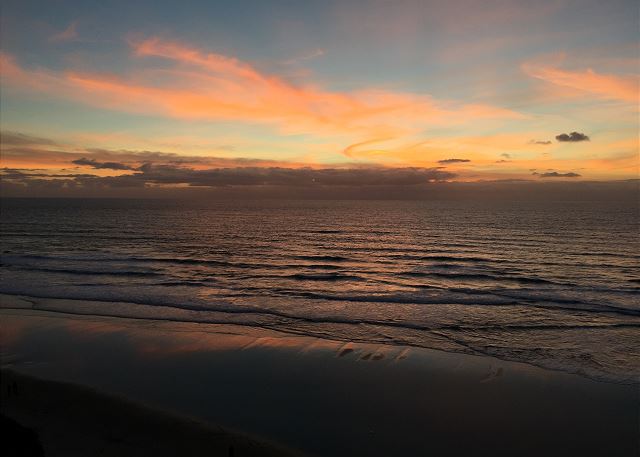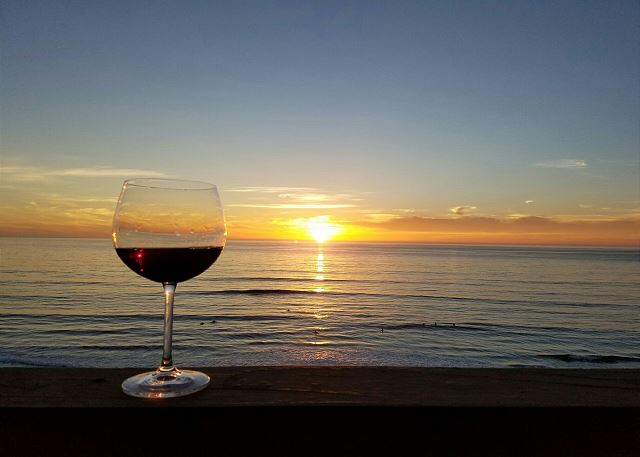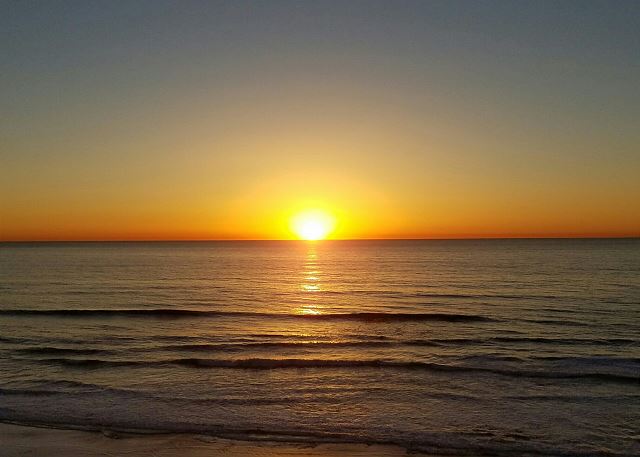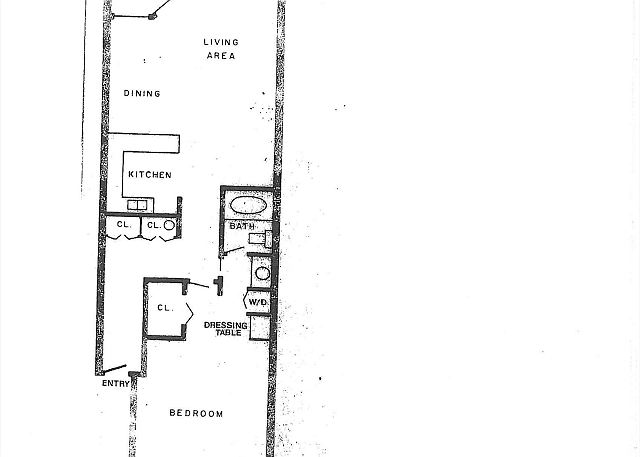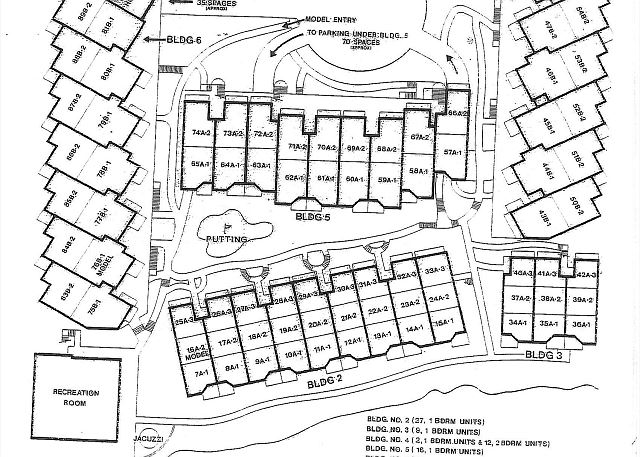 Book Your Stay!
Select your arrival and departure dates below to reserve this unit.


TOP FLOOR - OCEANFRONT! - DMST32
1 BR | 1 BA | Sleeps 4
An Amazing Southern California oceanfront vacation is yours! Immerse yourself in a 270-degree view of the Pacific Ocean from our deluxe, TOP FLOOR, ocean front condo. Watch dolphins, surfers and unforgettable sunsets from your floor-to-ceiling picture windows and private deck. The top (3rd) floor location offers an excellent view of the beach below. Your California get-away features a well stocked gourmet kitchen, barbecue, 55" flat screen TV and free wifi connection. The owner just purchased a new leather couch and chair in January, 2017. The in-unit washer/dryer and strategically placed ceiling fans make life free and easy! This home has 2 covered parking spaces. The condo is within walking distance of premier shopping, great restaurants, the Del Mar Race Track and the train to Los Angeles/San Diego; and minutes by car to world-class tourist venues including the San Diego Zoo, Sea World, PETCO Baseball Park and Legoland. This condo requires a a 7 night minimum stay.

Beach access stairs are adjacent to your gated complex and lead to the shoreline where you can swim, explore tide pools or take a romantic seaside stroll from Solana Beach to Del Mar. The complex features an oceanfront pool and spa.

Dave Stubbs Real Estate, Inc., is the premier vacation rental company for our area and manages our property. Their exceptional team will handle the details so that you can enjoy every minute of your vacation.


Rates

Begins
Ends
Daily
Weekly
Monthly
Jul 01, 2017
Sep 08, 2017
$2,340
Sep 09, 2017
Oct 27, 2017
$1,697
$3,395
Oct 28, 2017
Nov 10, 2017
$2,340
Nov 11, 2017
Dec 22, 2017
$1,697
$3,395
Dec 23, 2017
Jan 05, 2018
$2,340
Jan 06, 2018
Mar 31, 2018
$1,730
$3,677
Apr 01, 2018
Jun 15, 2018
$1,766
$3,532
*
Rates do not include fees.
Ironing Board
Linens
Washer & Dryer
Whirlpool Tub
High Speed Internet
Nearby ATM
Nearby FedEx
Nearby Golf Course
Nearby Internet Cafe
Nearby Post Office
Cable Television
CD Player
DVD Player
Multiple TV's
Premium Channels/HBO
Television
Coffee Maker
Cookware
Dishwasher
Full Kitchen
Microwave
Oven
Refrigerator
Stove
Toaster
Utensils
Balcony
BBQ Grill
Beach Walking
Outdoor Shower
Shared Swimming Pool
Surf Fishing
Swimming
Walkway to Water
Area Fitness Center
Medical Services Nearby
Nearby Grocery
Outlet Shopping
Shopping
Baseball Park
Football Stadium
Lighthouse
Military Base
Museums
Theatre
Exceptional Sunsets
Exceptional Views
Near Beach
August 2017

| S | M | T | W | T | F | S |
| --- | --- | --- | --- | --- | --- | --- |
| | | 01 | 02 | 03 | 04 | 05 |
| 06 | 07 | 08 | 09 | 10 | 11 | 12 |
| 13 | 14 | 15 | 16 | 17 | 18 | 19 |
| 20 | 21 | 22 | 23 | 24 | 25 | 26 |
| 27 | 28 | 29 | 30 | 31 | | |
September 2017

| S | M | T | W | T | F | S |
| --- | --- | --- | --- | --- | --- | --- |
| | | | | | 01 | 02 |
| 03 | 04 | 05 | 06 | 07 | 08 | 09 |
| 10 | 11 | 12 | 13 | 14 | 15 | 16 |
| 17 | 18 | 19 | 20 | 21 | 22 | 23 |
| 24 | 25 | 26 | 27 | 28 | 29 | 30 |
October 2017

| S | M | T | W | T | F | S |
| --- | --- | --- | --- | --- | --- | --- |
| 01 | 02 | 03 | 04 | 05 | 06 | 07 |
| 08 | 09 | 10 | 11 | 12 | 13 | 14 |
| 15 | 16 | 17 | 18 | 19 | 20 | 21 |
| 22 | 23 | 24 | 25 | 26 | 27 | 28 |
| 29 | 30 | 31 | | | | |
November 2017

| S | M | T | W | T | F | S |
| --- | --- | --- | --- | --- | --- | --- |
| | | | 01 | 02 | 03 | 04 |
| 05 | 06 | 07 | 08 | 09 | 10 | 11 |
| 12 | 13 | 14 | 15 | 16 | 17 | 18 |
| 19 | 20 | 21 | 22 | 23 | 24 | 25 |
| 26 | 27 | 28 | 29 | 30 | | |
December 2017

| S | M | T | W | T | F | S |
| --- | --- | --- | --- | --- | --- | --- |
| | | | | | 01 | 02 |
| 03 | 04 | 05 | 06 | 07 | 08 | 09 |
| 10 | 11 | 12 | 13 | 14 | 15 | 16 |
| 17 | 18 | 19 | 20 | 21 | 22 | 23 |
| 24 | 25 | 26 | 27 | 28 | 29 | 30 |
| 31 | | | | | | |
January 2018

| S | M | T | W | T | F | S |
| --- | --- | --- | --- | --- | --- | --- |
| | 01 | 02 | 03 | 04 | 05 | 06 |
| 07 | 08 | 09 | 10 | 11 | 12 | 13 |
| 14 | 15 | 16 | 17 | 18 | 19 | 20 |
| 21 | 22 | 23 | 24 | 25 | 26 | 27 |
| 28 | 29 | 30 | 31 | | | |
February 2018

| S | M | T | W | T | F | S |
| --- | --- | --- | --- | --- | --- | --- |
| | | | | 01 | 02 | 03 |
| 04 | 05 | 06 | 07 | 08 | 09 | 10 |
| 11 | 12 | 13 | 14 | 15 | 16 | 17 |
| 18 | 19 | 20 | 21 | 22 | 23 | 24 |
| 25 | 26 | 27 | 28 | | | |
March 2018

| S | M | T | W | T | F | S |
| --- | --- | --- | --- | --- | --- | --- |
| | | | | 01 | 02 | 03 |
| 04 | 05 | 06 | 07 | 08 | 09 | 10 |
| 11 | 12 | 13 | 14 | 15 | 16 | 17 |
| 18 | 19 | 20 | 21 | 22 | 23 | 24 |
| 25 | 26 | 27 | 28 | 29 | 30 | 31 |
April 2018

| S | M | T | W | T | F | S |
| --- | --- | --- | --- | --- | --- | --- |
| 01 | 02 | 03 | 04 | 05 | 06 | 07 |
| 08 | 09 | 10 | 11 | 12 | 13 | 14 |
| 15 | 16 | 17 | 18 | 19 | 20 | 21 |
| 22 | 23 | 24 | 25 | 26 | 27 | 28 |
| 29 | 30 | | | | | |
May 2018

| S | M | T | W | T | F | S |
| --- | --- | --- | --- | --- | --- | --- |
| | | 01 | 02 | 03 | 04 | 05 |
| 06 | 07 | 08 | 09 | 10 | 11 | 12 |
| 13 | 14 | 15 | 16 | 17 | 18 | 19 |
| 20 | 21 | 22 | 23 | 24 | 25 | 26 |
| 27 | 28 | 29 | 30 | 31 | | |
June 2018

| S | M | T | W | T | F | S |
| --- | --- | --- | --- | --- | --- | --- |
| | | | | | 01 | 02 |
| 03 | 04 | 05 | 06 | 07 | 08 | 09 |
| 10 | 11 | 12 | 13 | 14 | 15 | 16 |
| 17 | 18 | 19 | 20 | 21 | 22 | 23 |
| 24 | 25 | 26 | 27 | 28 | 29 | 30 |