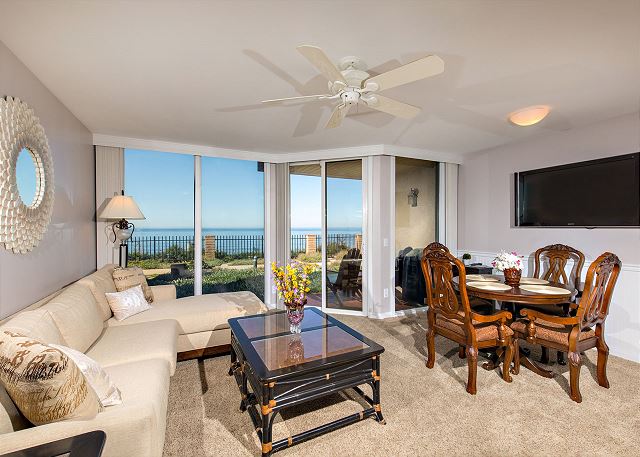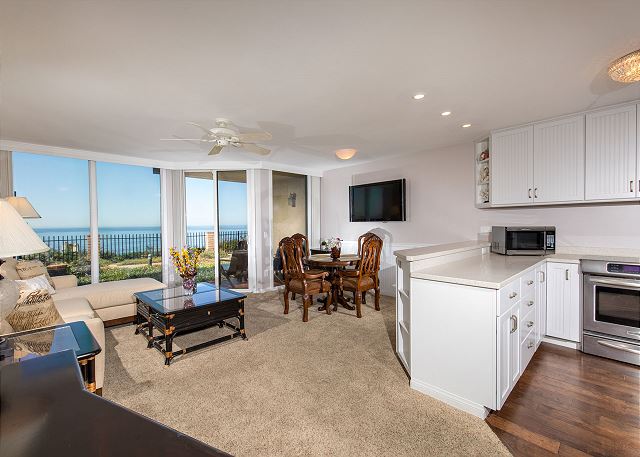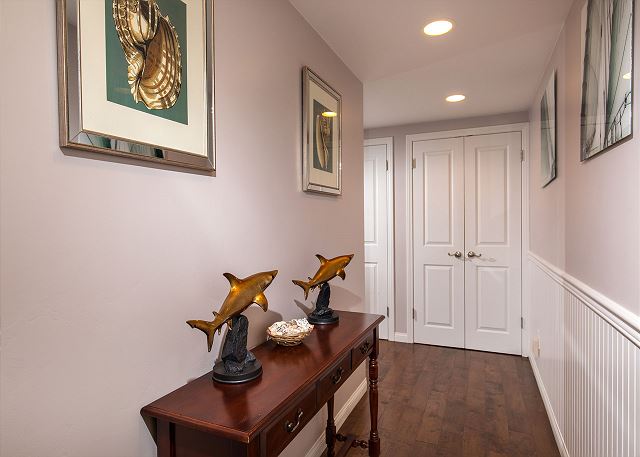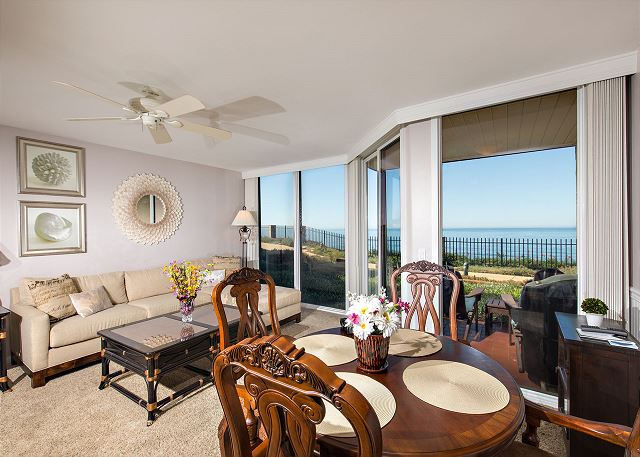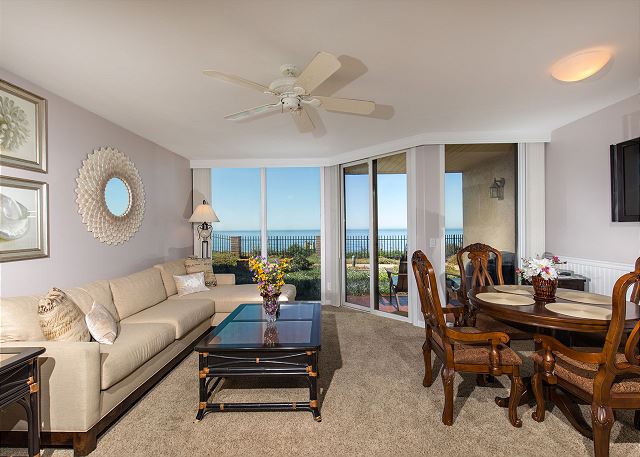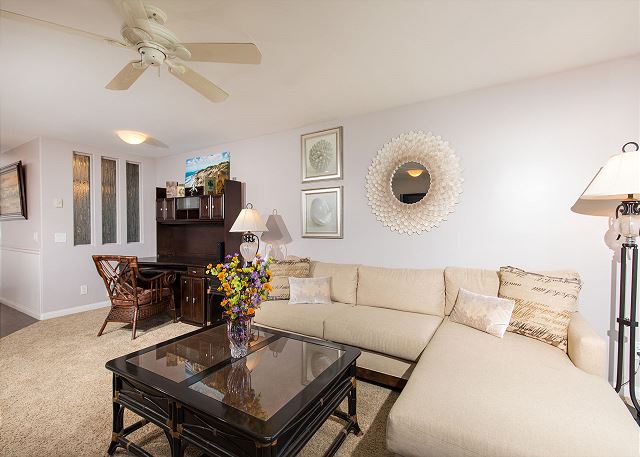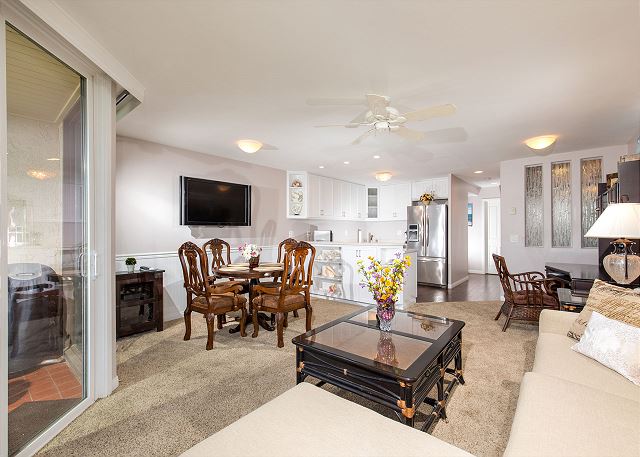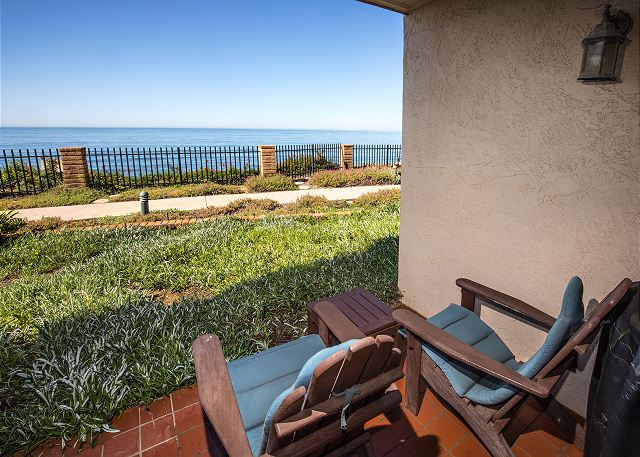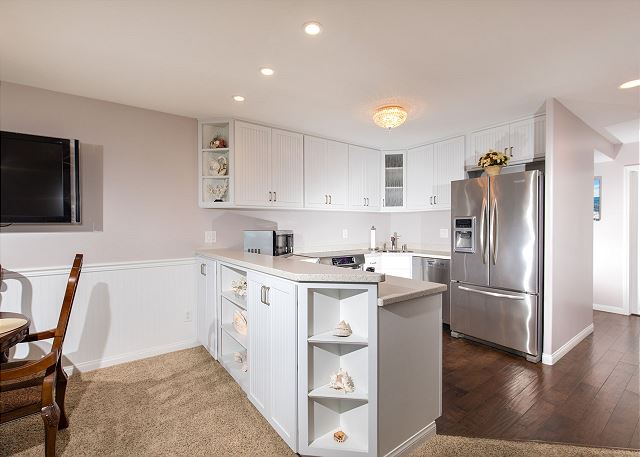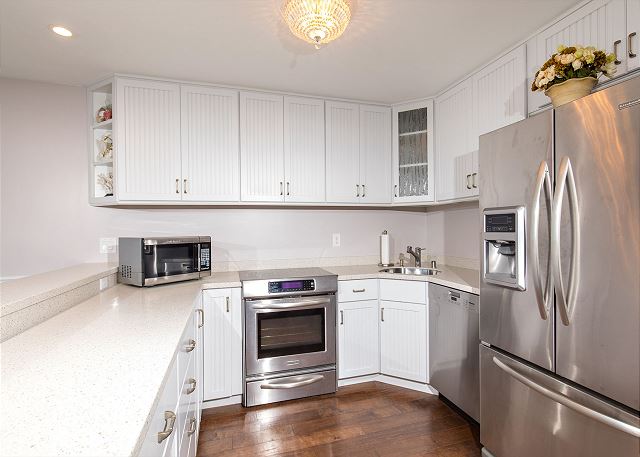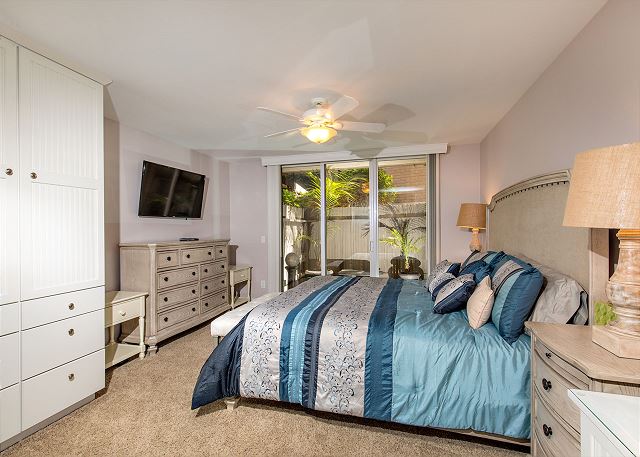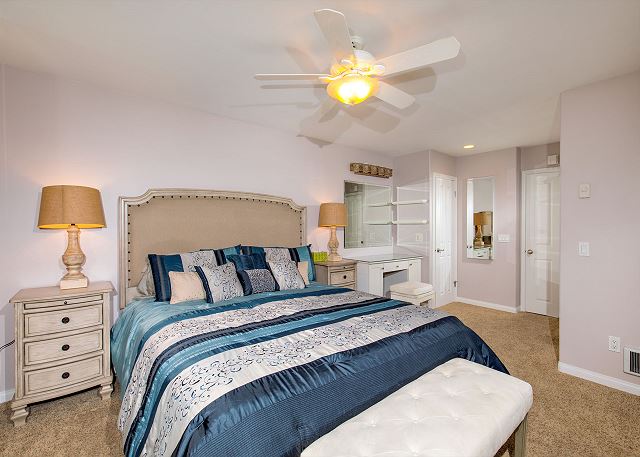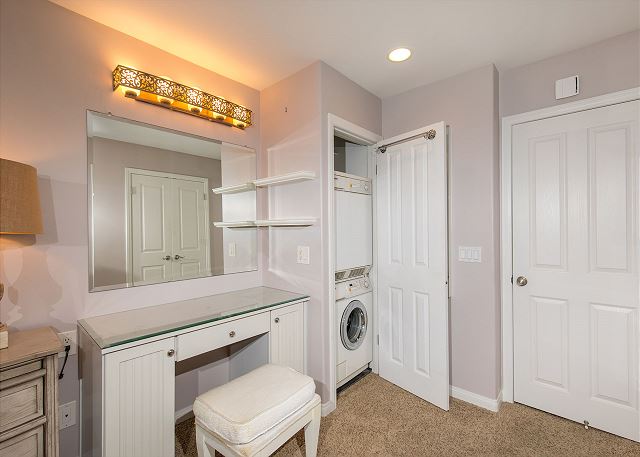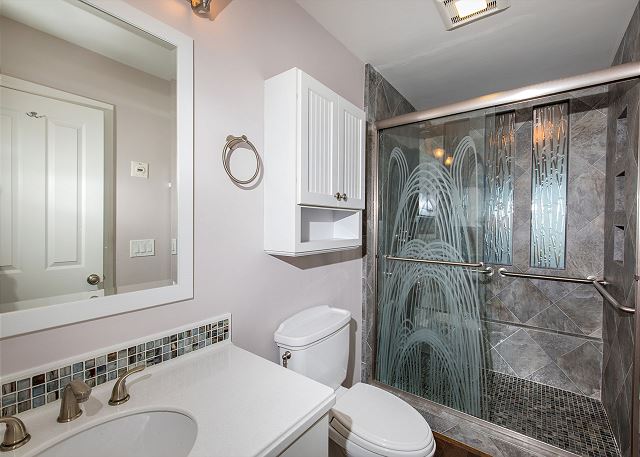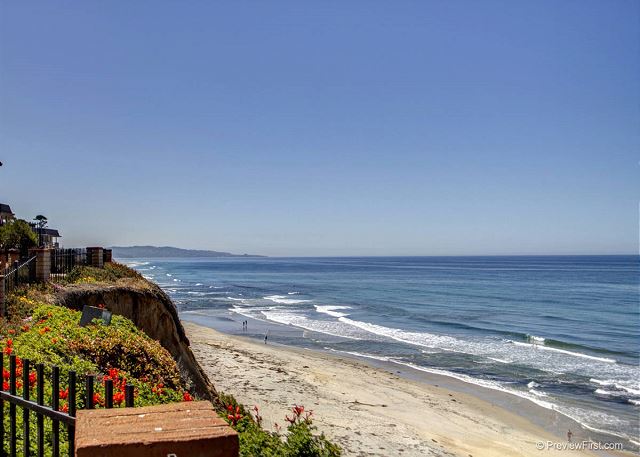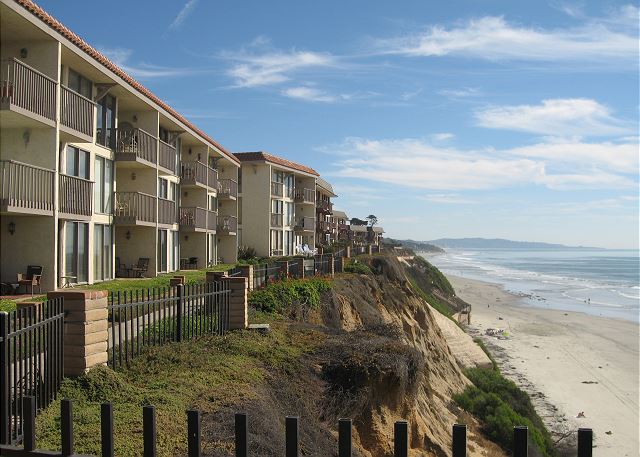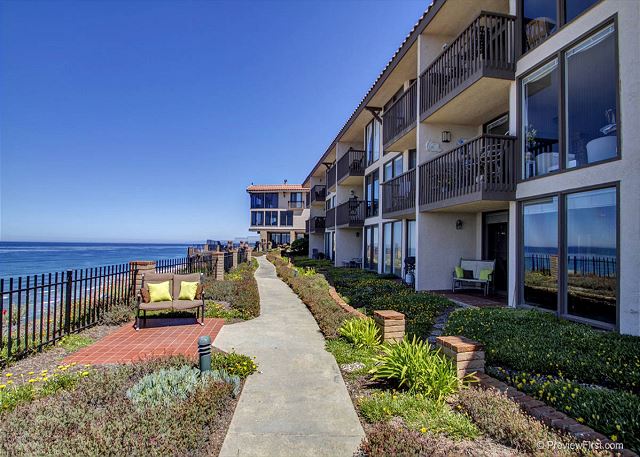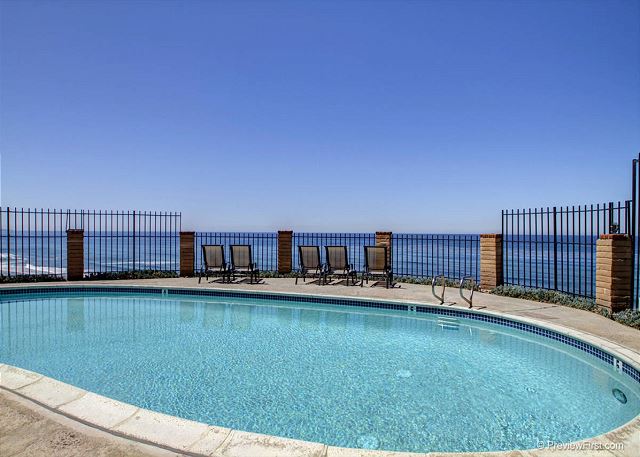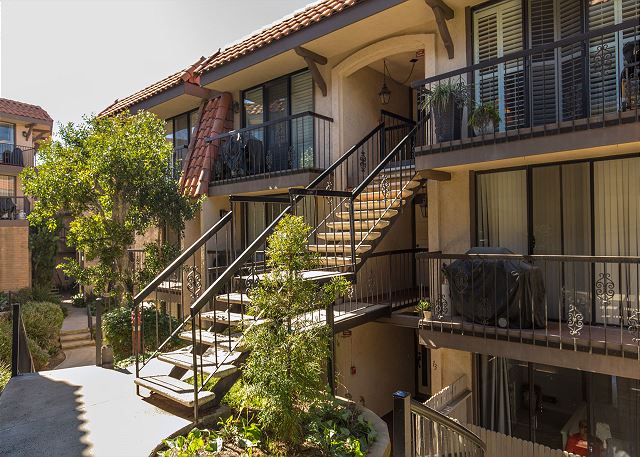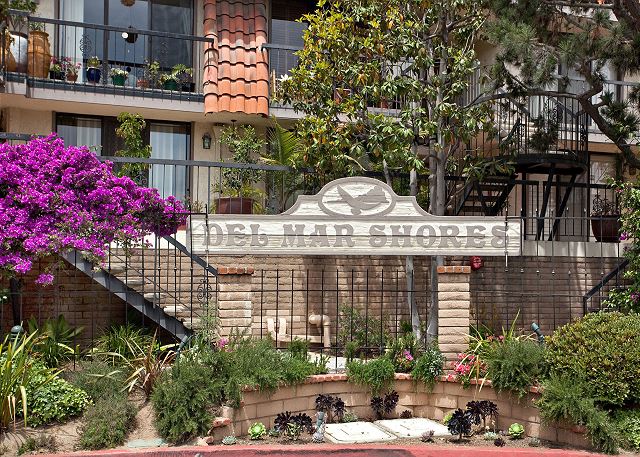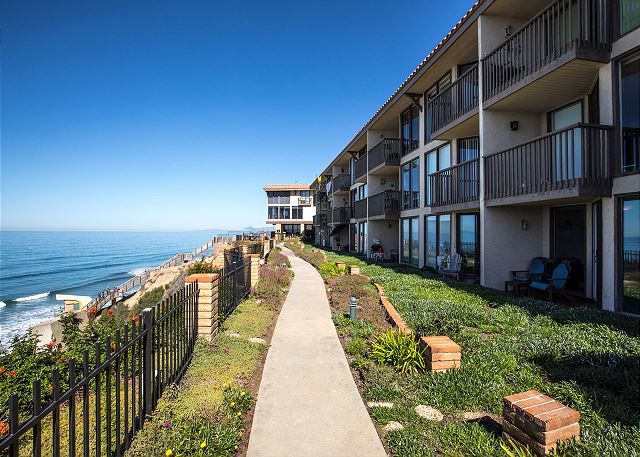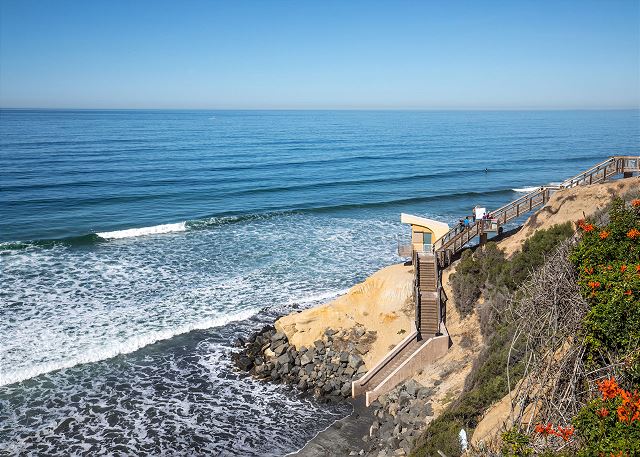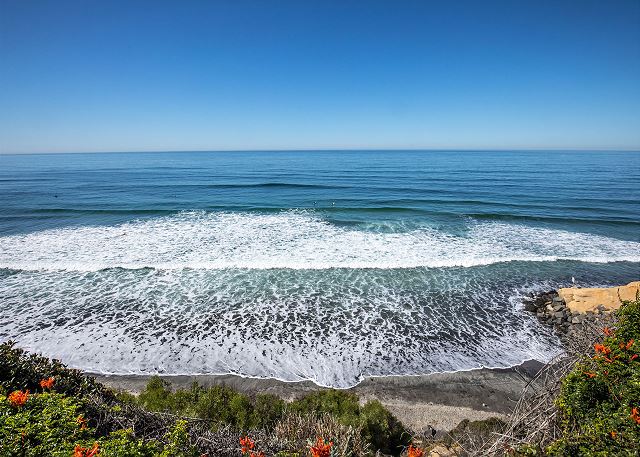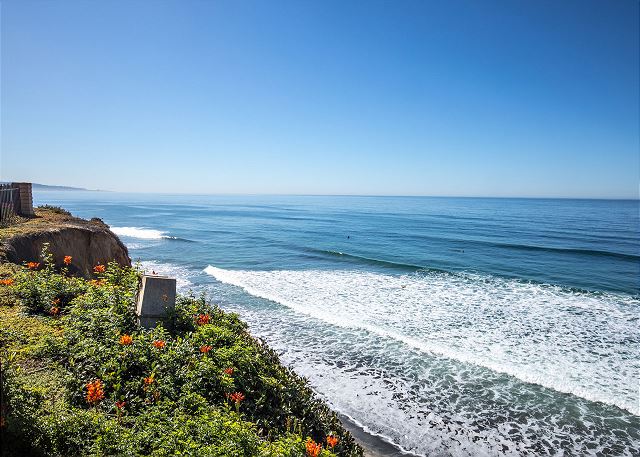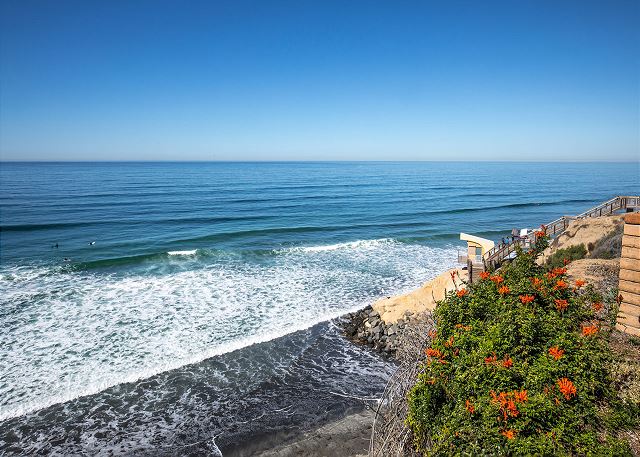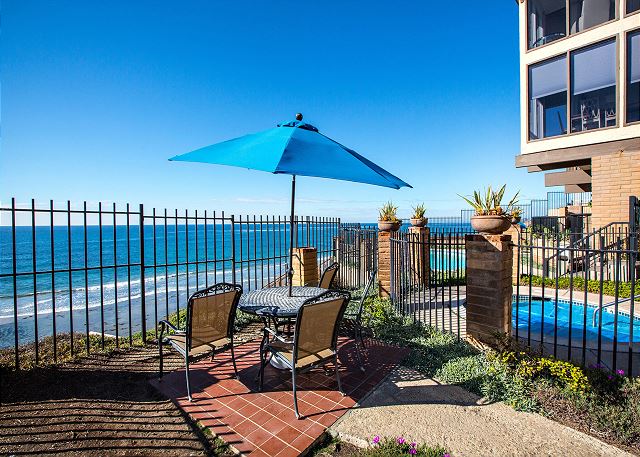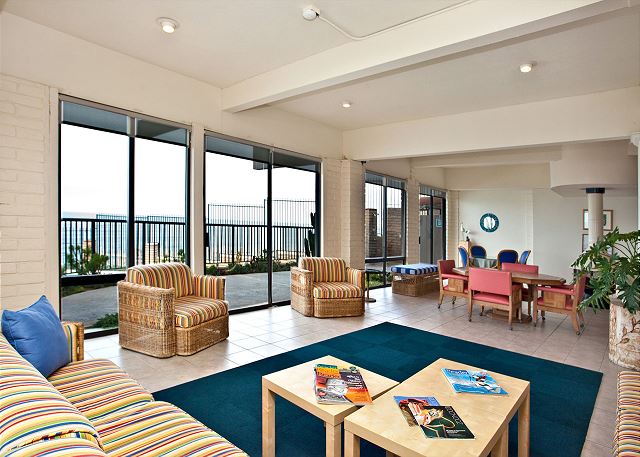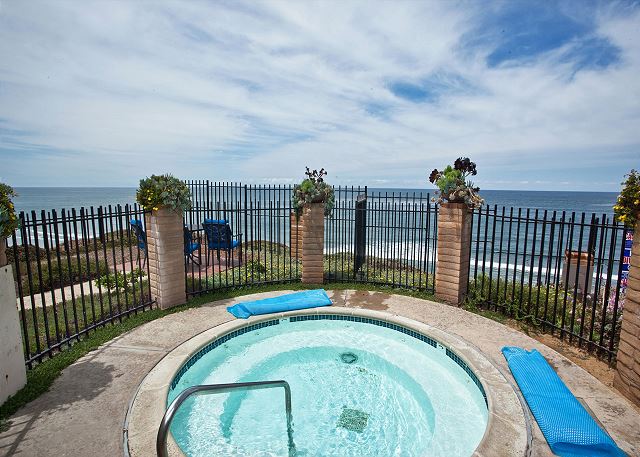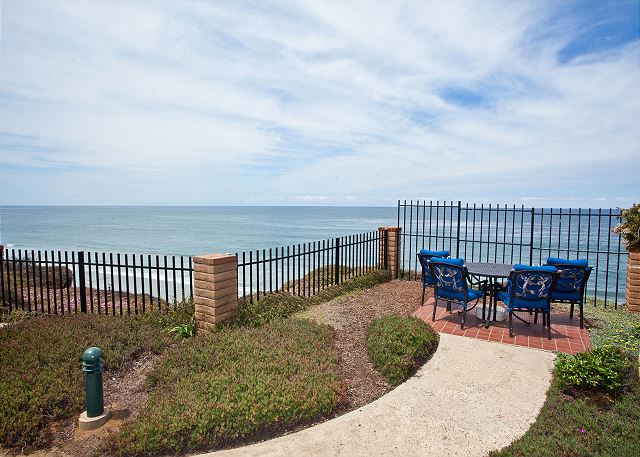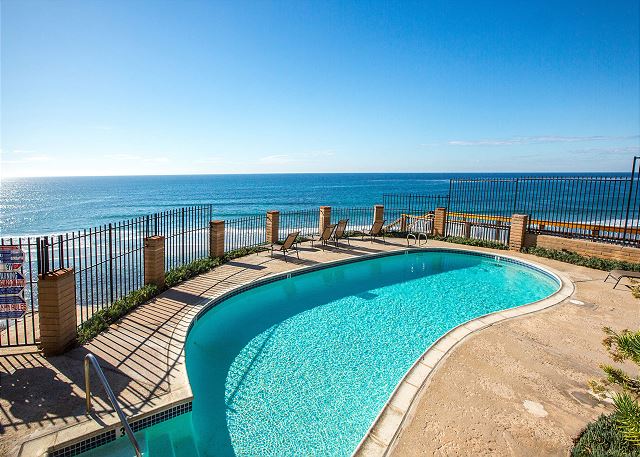 Book Your Stay!
Select your arrival and departure dates below to reserve this unit.


AHH, The Smell Of Salt & Sea! Oceanfront 1BR DMST14
1 BR | 1 BA | Sleeps 3
Ocean Air & Salty Hair!

Imagine enjoying ocean views, spectacular sunsets and sunrises from several places in this ideally located condo. Inside you can enjoy the views from your kitchen, living room and front patio. Sip your morning coffee or tea while watching the sun rise & sunset while ocean breezes blow by.

This 1-bedroom 1-bath 895 sq. ft. condo is located mid- floor and is a great place to experience the best of Southern California's inside/outside lifestyle. The complex provides an oceanfront pool and jacuzzi and also provides beach access. A great surf spot and awesome beach are just steps away!

The living room is light and bright with a comfy couch, work area and a large flat screen TV. The dining area and remodeled kitchen - also have ocean views through floor to ceiling windows.

A comfortable and tastefully decorated master bedroom has a king size bed and ensuite bath with walk in shower - no tub.

There is a tacking washer and dryer for your convenience and luxury bed and bathroom linens are amply supplied.

Additional amenities include 2 garage parking spaces and public parking outside the complex. There is WIFI and cable. The living room and bedroom have ceiling fans for warm days and evenings.

The Del Mar Shores Terrace complex is within walking distance to Fletcher Cove, Dog Beach, Belly Up Tavern, Cedros Shopping District, The Train Station, and many outdoor restaurants. It is also conveniently located thirty minutes to downtown San Diego and many famous attractions such as Sea World, LEGOLAND, and the San Diego Zoo.

Enjoy California coastal living at its finest and create memories that will last a lifetime.

Please note:
There is no smoking allowed inside or outside any of our properties.
This home (like most in this coastal area) does not have air conditioning. Floor fans are provided for your comfort.
The Solana Beach city ordinance requires a 7–night minimum rental.
Saturday arrival and departure are required late June through late August.


Rates

Begins
Ends
Daily
Weekly
Monthly
Apr 01, 2019
Jun 14, 2019
$1,753
$6,598
Jun 15, 2019
Sep 15, 2019
$2,649
$11,199
Sep 16, 2019
Dec 31, 2019
$2,674
$6,838
Jan 01, 2020
Mar 31, 2020
$1,800
$7,472
*
Rates do not include fees.
Ironing Board
Linens
High Speed Internet
Nearby Post Office
Cable Television
CD Player
DVD Player
Television
Coffee Maker
Cookware
Dishwasher
Full Kitchen
Ice Maker
Microwave
Oven
Refrigerator
Stove
Toaster
Utensils
Beach Walking
Beachcombing
Fishing
Hot Tub
Outdoor Shower
Patio
Shared Swimming Pool
Surfing
Swimming
Beach
April 2019

| S | M | T | W | T | F | S |
| --- | --- | --- | --- | --- | --- | --- |
| | 01 | 02 | 03 | 04 | 05 | 06 |
| 07 | 08 | 09 | 10 | 11 | 12 | 13 |
| 14 | 15 | 16 | 17 | 18 | 19 | 20 |
| 21 | 22 | 23 | 24 | 25 | 26 | 27 |
| 28 | 29 | 30 | | | | |
May 2019

| S | M | T | W | T | F | S |
| --- | --- | --- | --- | --- | --- | --- |
| | | | 01 | 02 | 03 | 04 |
| 05 | 06 | 07 | 08 | 09 | 10 | 11 |
| 12 | 13 | 14 | 15 | 16 | 17 | 18 |
| 19 | 20 | 21 | 22 | 23 | 24 | 25 |
| 26 | 27 | 28 | 29 | 30 | 31 | |
June 2019

| S | M | T | W | T | F | S |
| --- | --- | --- | --- | --- | --- | --- |
| | | | | | | 01 |
| 02 | 03 | 04 | 05 | 06 | 07 | 08 |
| 09 | 10 | 11 | 12 | 13 | 14 | 15 |
| 16 | 17 | 18 | 19 | 20 | 21 | 22 |
| 23 | 24 | 25 | 26 | 27 | 28 | 29 |
| 30 | | | | | | |
July 2019

| S | M | T | W | T | F | S |
| --- | --- | --- | --- | --- | --- | --- |
| | 01 | 02 | 03 | 04 | 05 | 06 |
| 07 | 08 | 09 | 10 | 11 | 12 | 13 |
| 14 | 15 | 16 | 17 | 18 | 19 | 20 |
| 21 | 22 | 23 | 24 | 25 | 26 | 27 |
| 28 | 29 | 30 | 31 | | | |
August 2019

| S | M | T | W | T | F | S |
| --- | --- | --- | --- | --- | --- | --- |
| | | | | 01 | 02 | 03 |
| 04 | 05 | 06 | 07 | 08 | 09 | 10 |
| 11 | 12 | 13 | 14 | 15 | 16 | 17 |
| 18 | 19 | 20 | 21 | 22 | 23 | 24 |
| 25 | 26 | 27 | 28 | 29 | 30 | 31 |
September 2019

| S | M | T | W | T | F | S |
| --- | --- | --- | --- | --- | --- | --- |
| 01 | 02 | 03 | 04 | 05 | 06 | 07 |
| 08 | 09 | 10 | 11 | 12 | 13 | 14 |
| 15 | 16 | 17 | 18 | 19 | 20 | 21 |
| 22 | 23 | 24 | 25 | 26 | 27 | 28 |
| 29 | 30 | | | | | |
October 2019

| S | M | T | W | T | F | S |
| --- | --- | --- | --- | --- | --- | --- |
| | | 01 | 02 | 03 | 04 | 05 |
| 06 | 07 | 08 | 09 | 10 | 11 | 12 |
| 13 | 14 | 15 | 16 | 17 | 18 | 19 |
| 20 | 21 | 22 | 23 | 24 | 25 | 26 |
| 27 | 28 | 29 | 30 | 31 | | |
November 2019

| S | M | T | W | T | F | S |
| --- | --- | --- | --- | --- | --- | --- |
| | | | | | 01 | 02 |
| 03 | 04 | 05 | 06 | 07 | 08 | 09 |
| 10 | 11 | 12 | 13 | 14 | 15 | 16 |
| 17 | 18 | 19 | 20 | 21 | 22 | 23 |
| 24 | 25 | 26 | 27 | 28 | 29 | 30 |
December 2019

| S | M | T | W | T | F | S |
| --- | --- | --- | --- | --- | --- | --- |
| 01 | 02 | 03 | 04 | 05 | 06 | 07 |
| 08 | 09 | 10 | 11 | 12 | 13 | 14 |
| 15 | 16 | 17 | 18 | 19 | 20 | 21 |
| 22 | 23 | 24 | 25 | 26 | 27 | 28 |
| 29 | 30 | 31 | | | | |
January 2020

| S | M | T | W | T | F | S |
| --- | --- | --- | --- | --- | --- | --- |
| | | | 01 | 02 | 03 | 04 |
| 05 | 06 | 07 | 08 | 09 | 10 | 11 |
| 12 | 13 | 14 | 15 | 16 | 17 | 18 |
| 19 | 20 | 21 | 22 | 23 | 24 | 25 |
| 26 | 27 | 28 | 29 | 30 | 31 | |
February 2020

| S | M | T | W | T | F | S |
| --- | --- | --- | --- | --- | --- | --- |
| | | | | | | 01 |
| 02 | 03 | 04 | 05 | 06 | 07 | 08 |
| 09 | 10 | 11 | 12 | 13 | 14 | 15 |
| 16 | 17 | 18 | 19 | 20 | 21 | 22 |
| 23 | 24 | 25 | 26 | 27 | 28 | 29 |