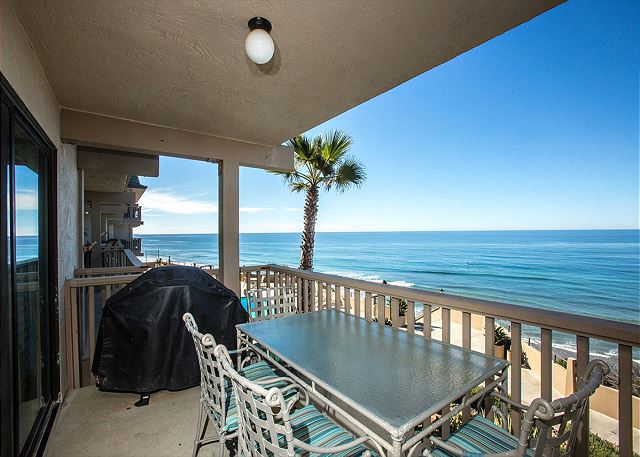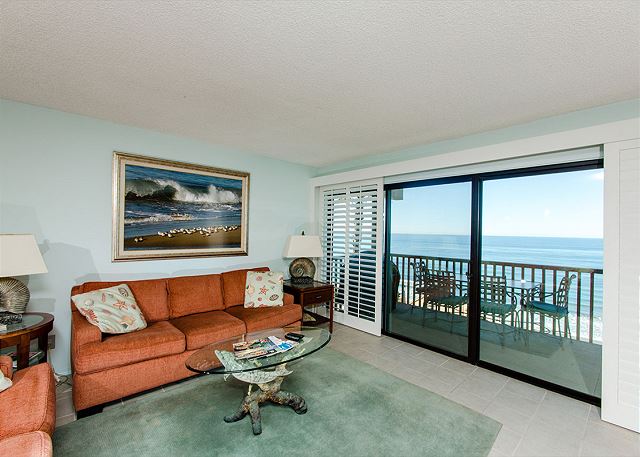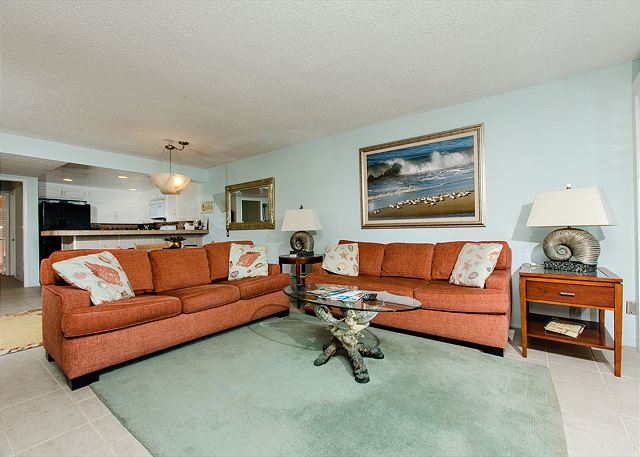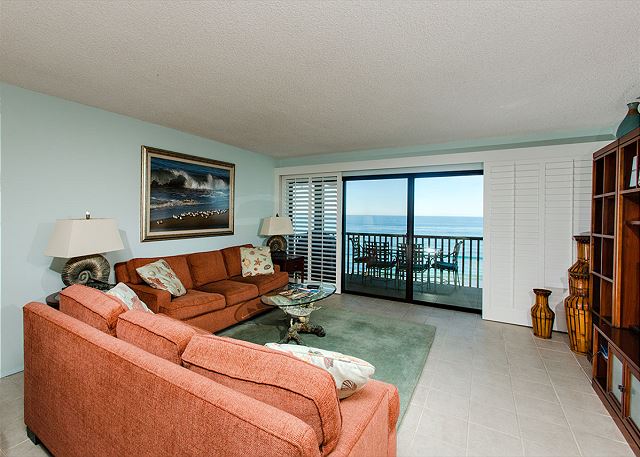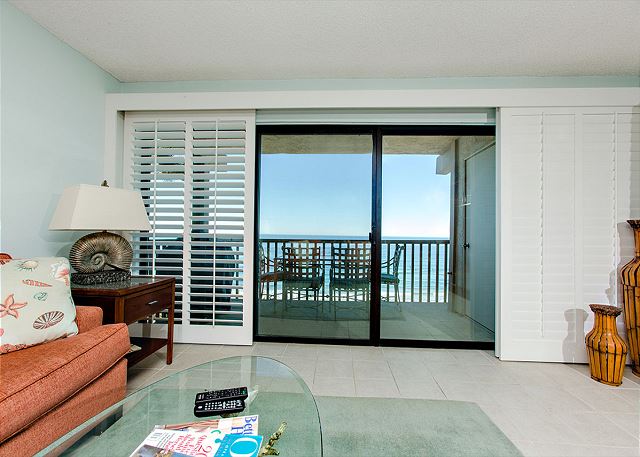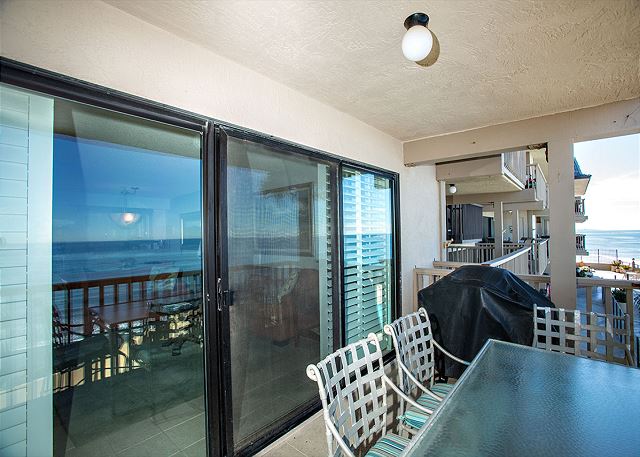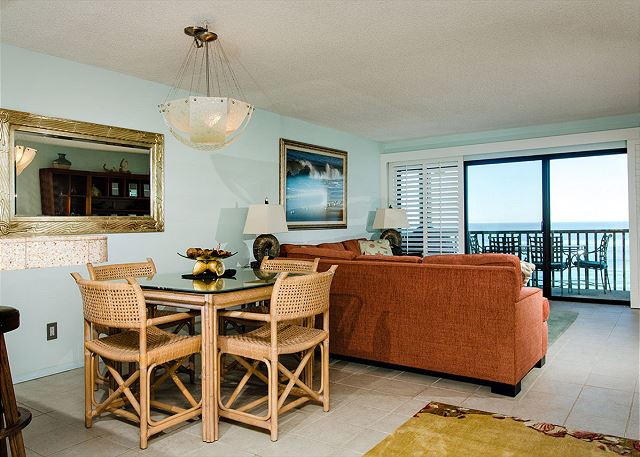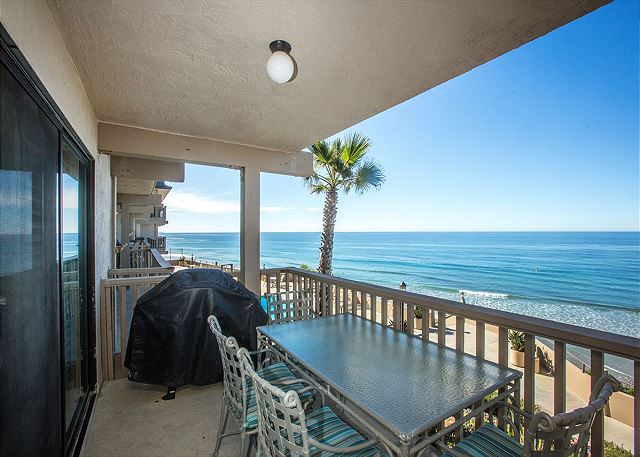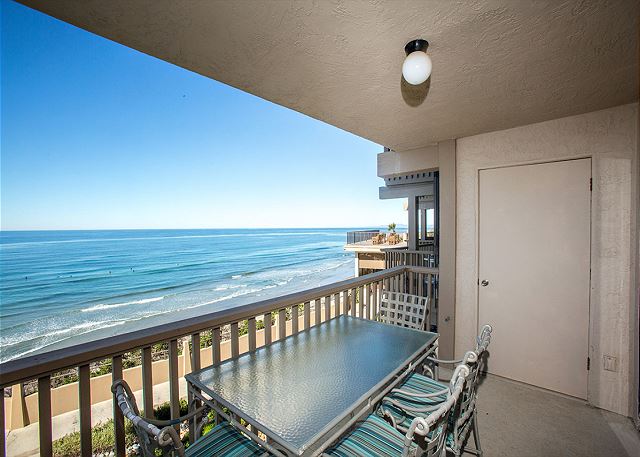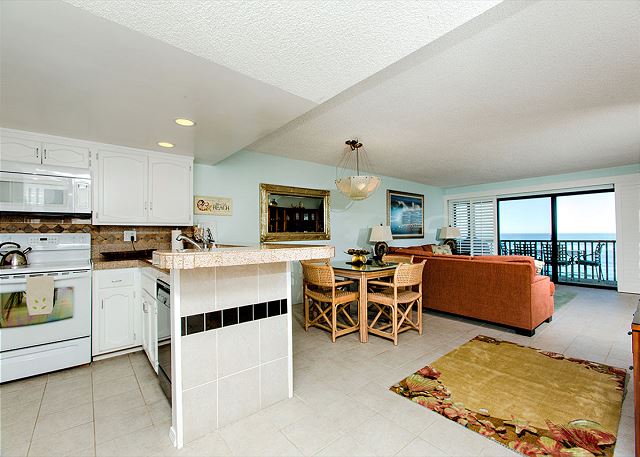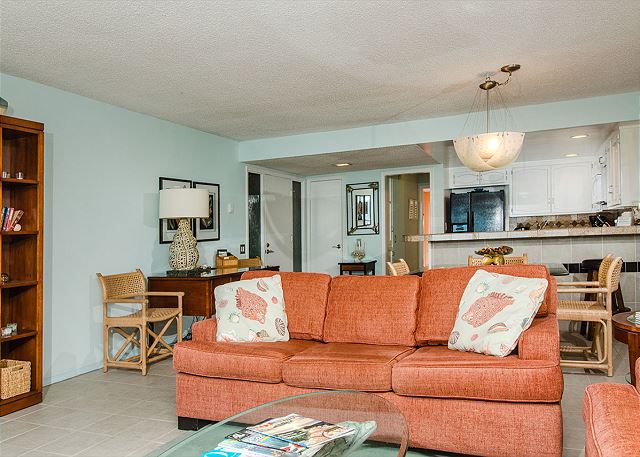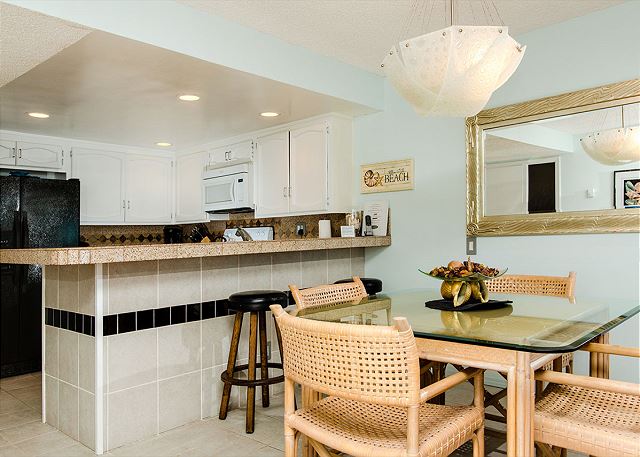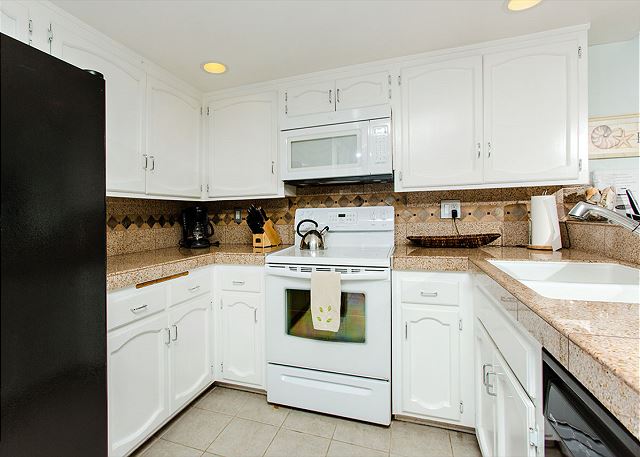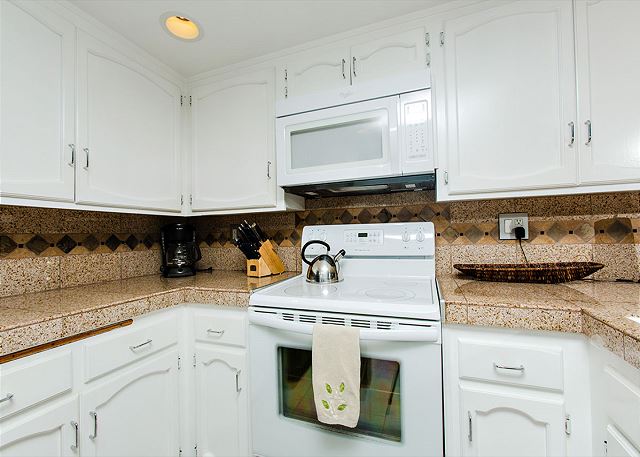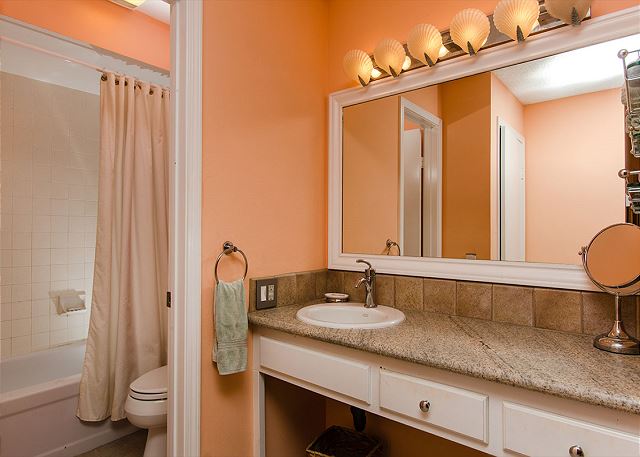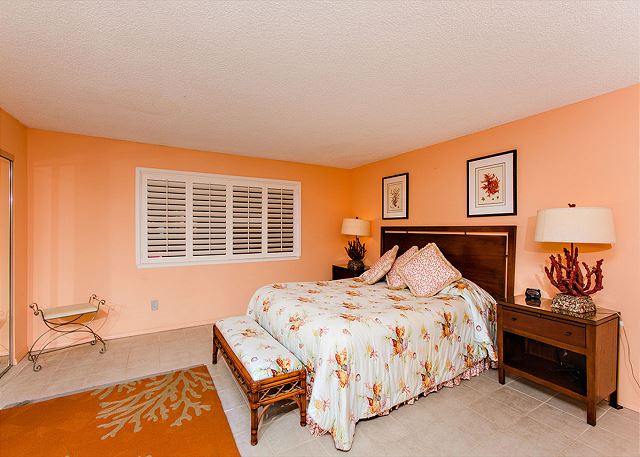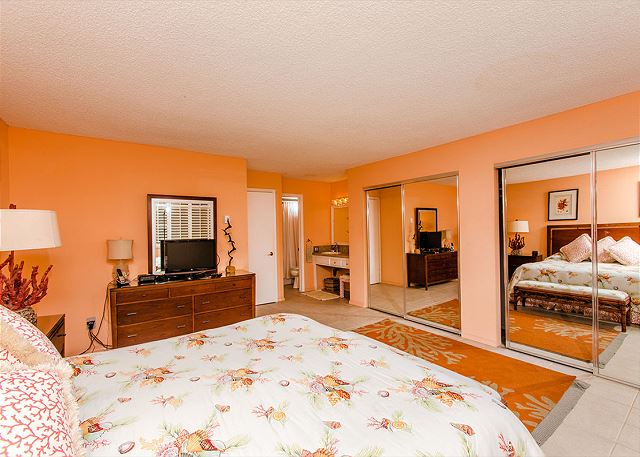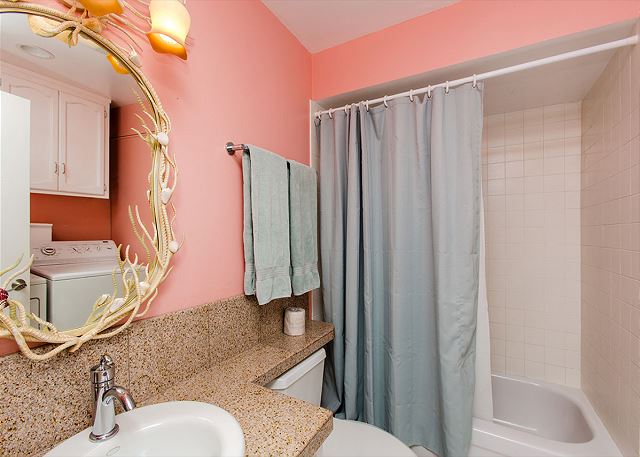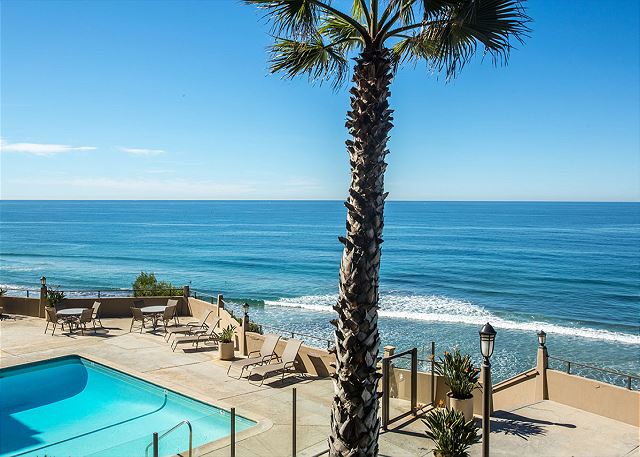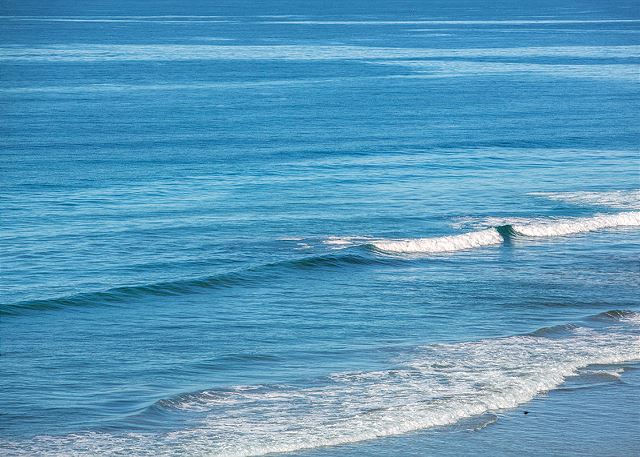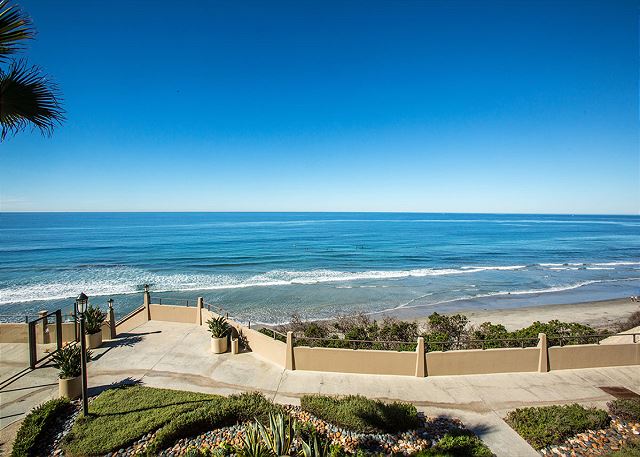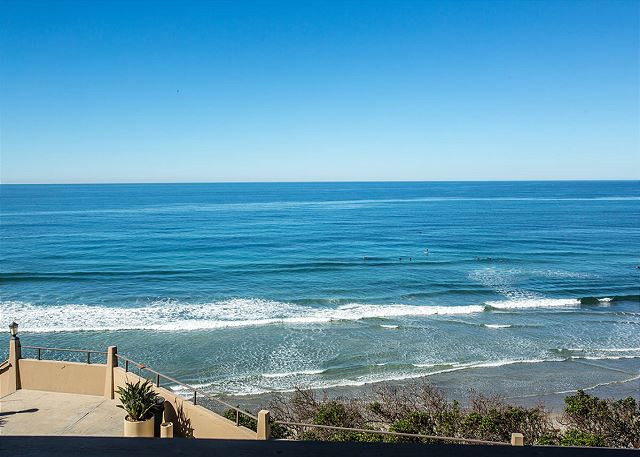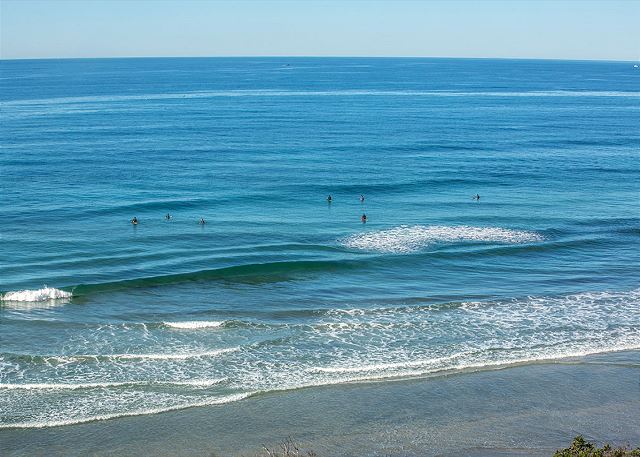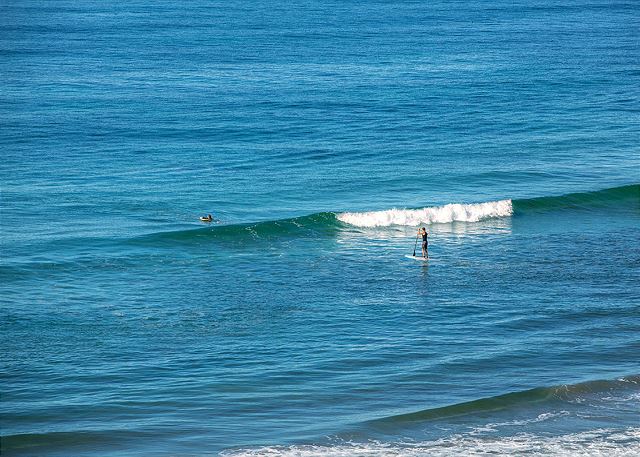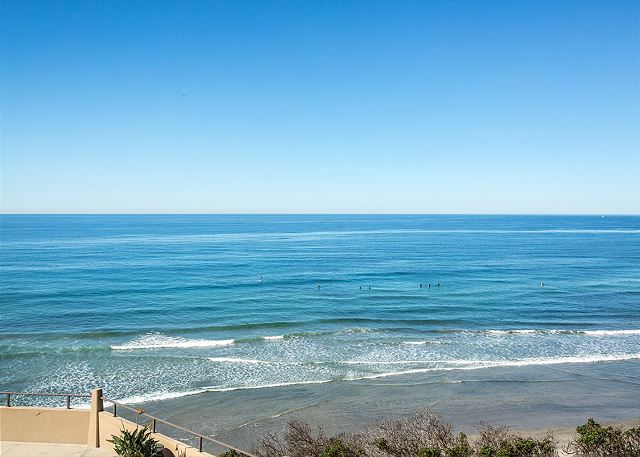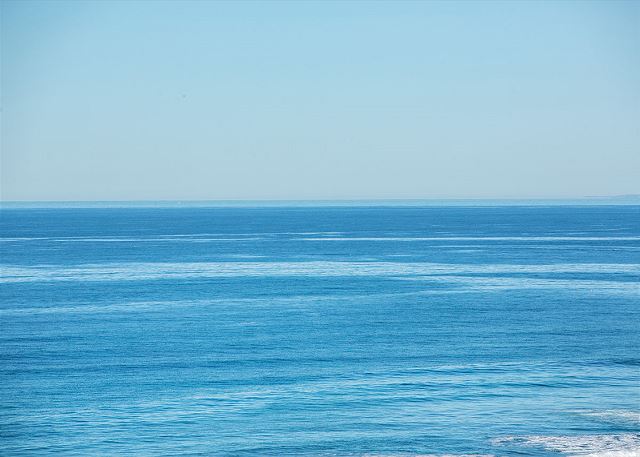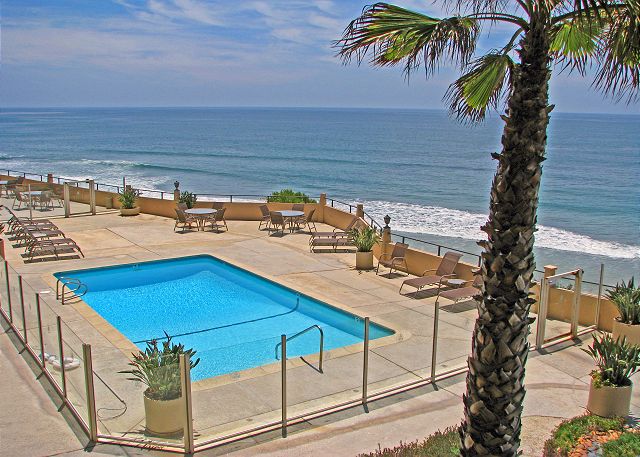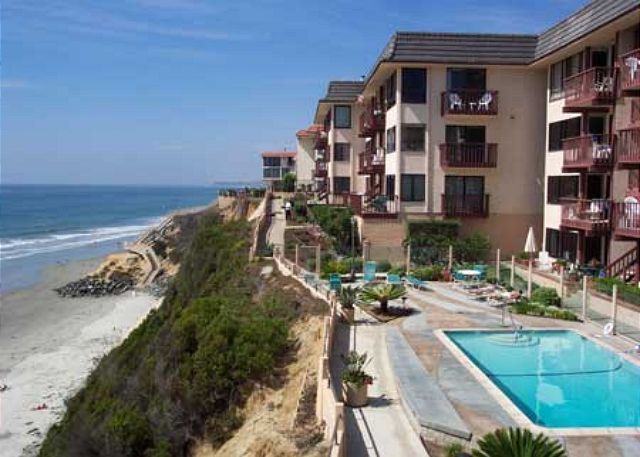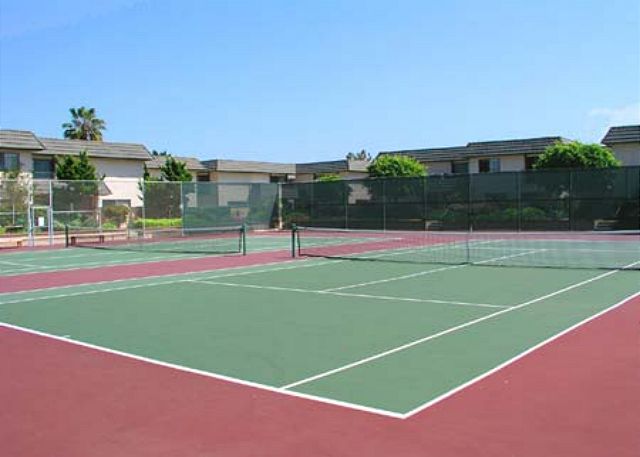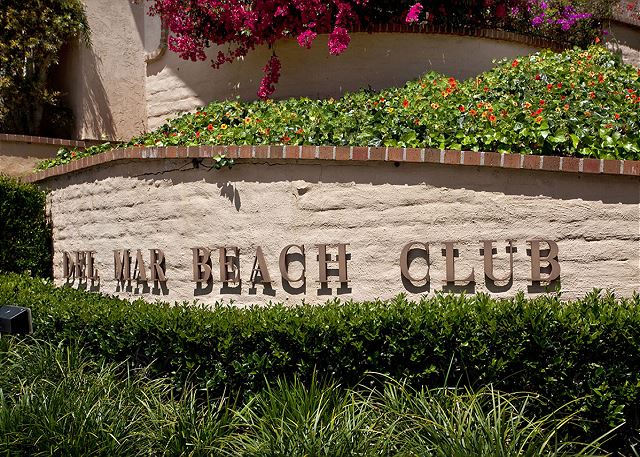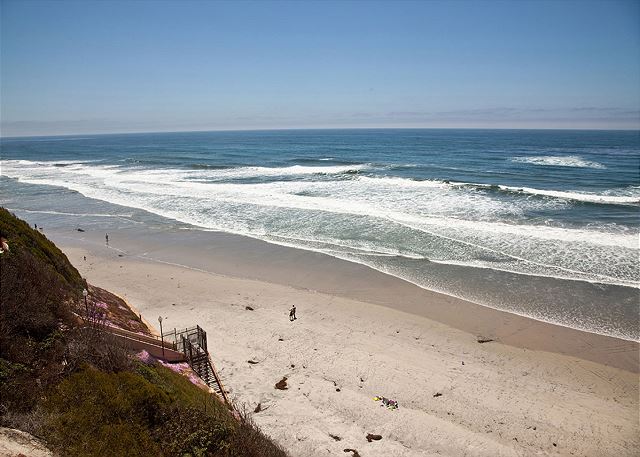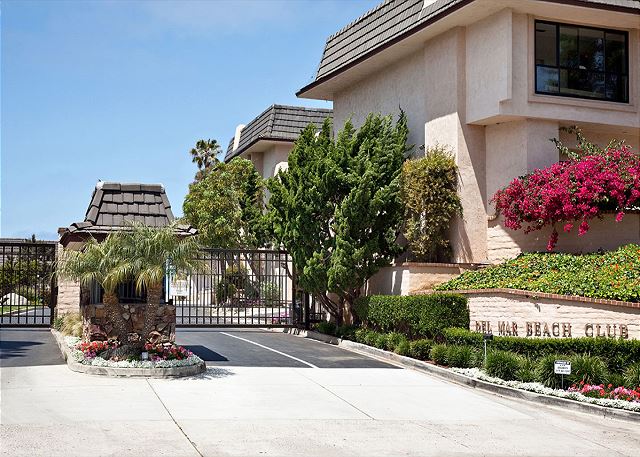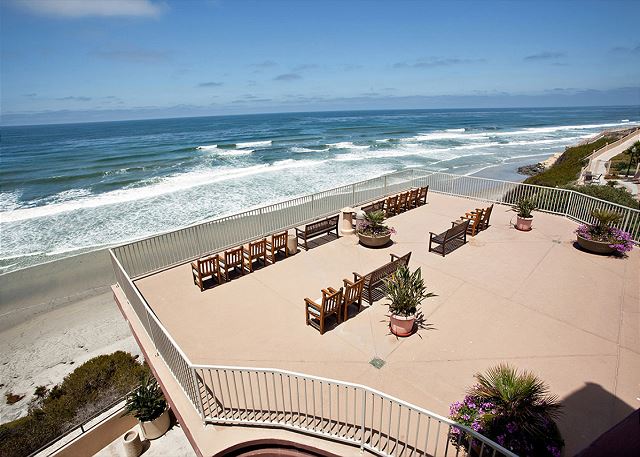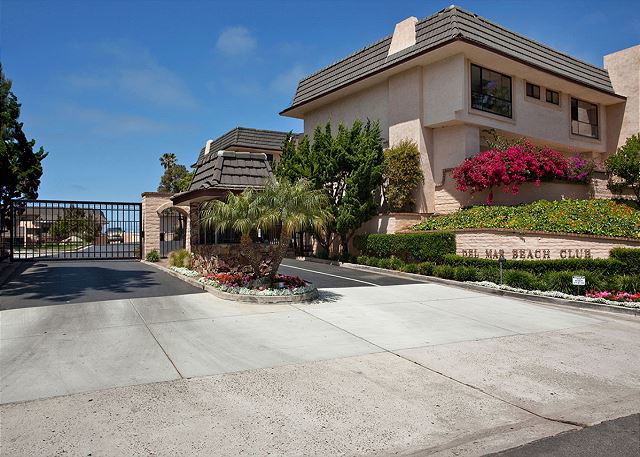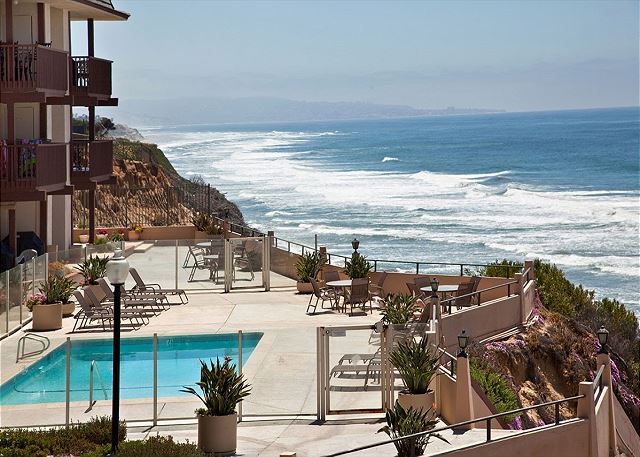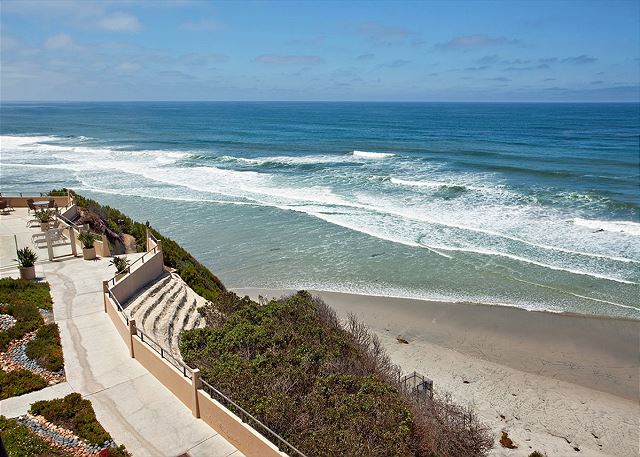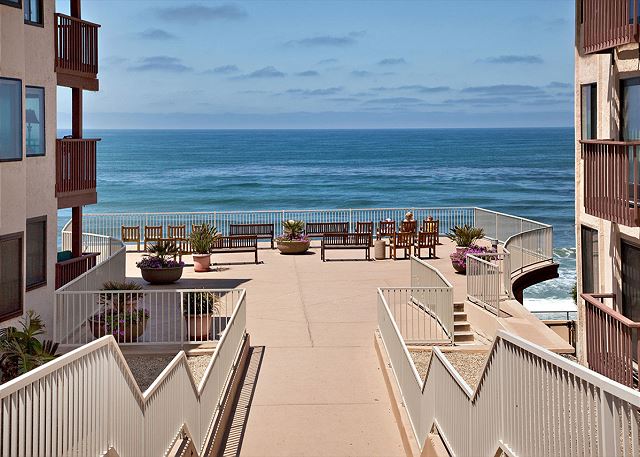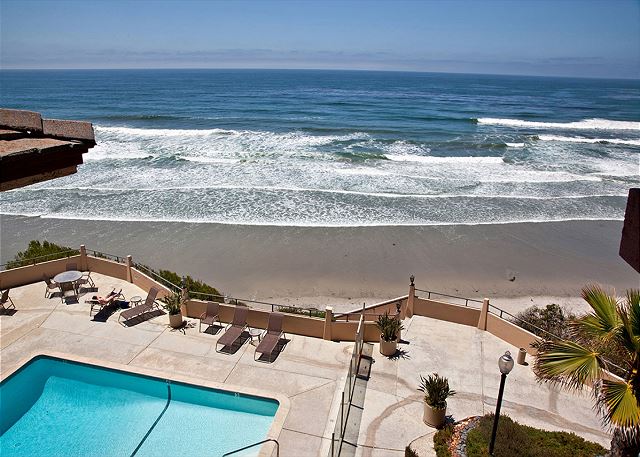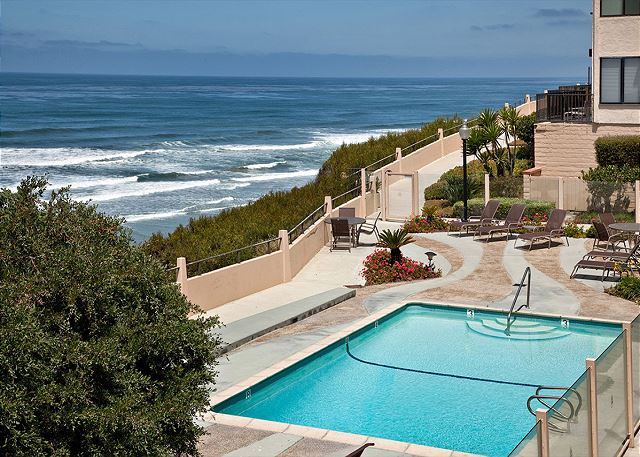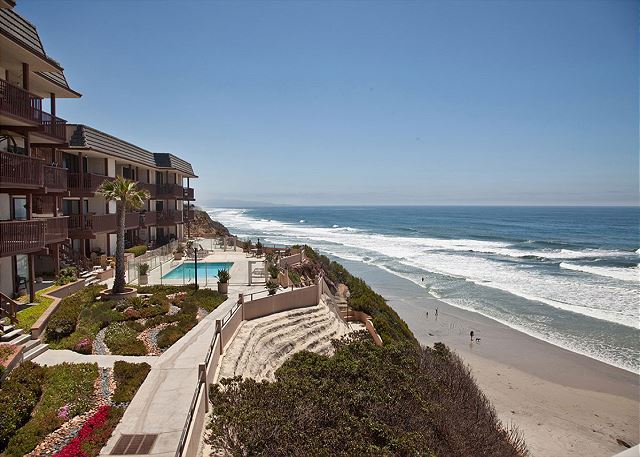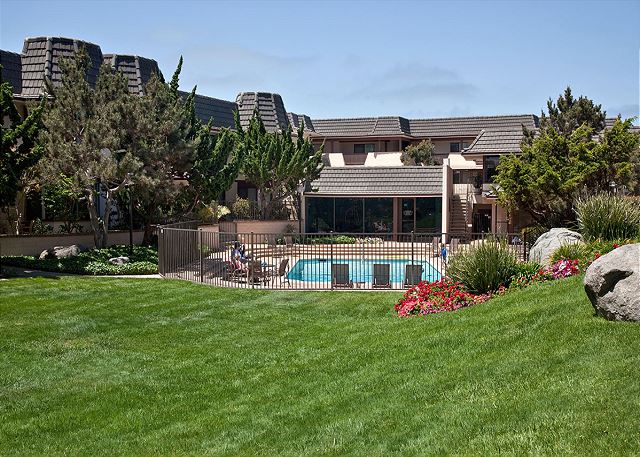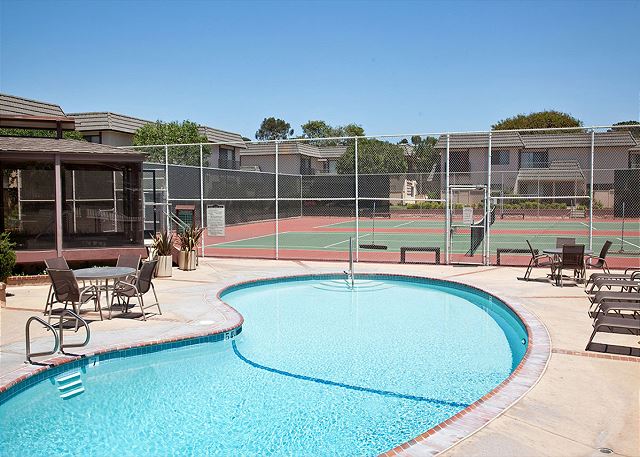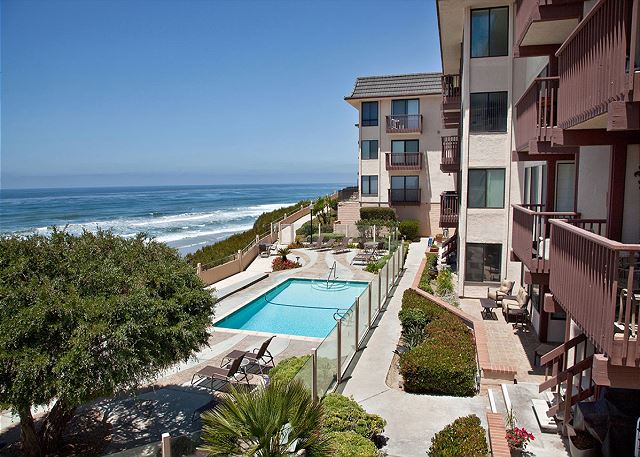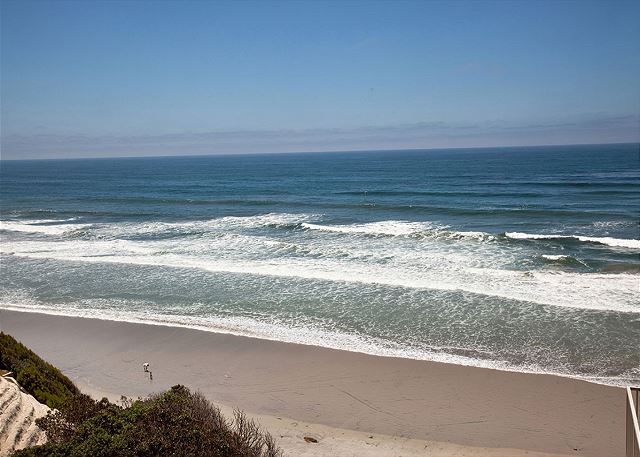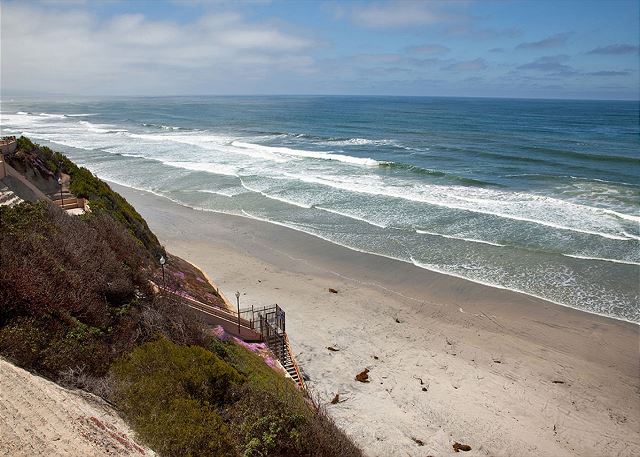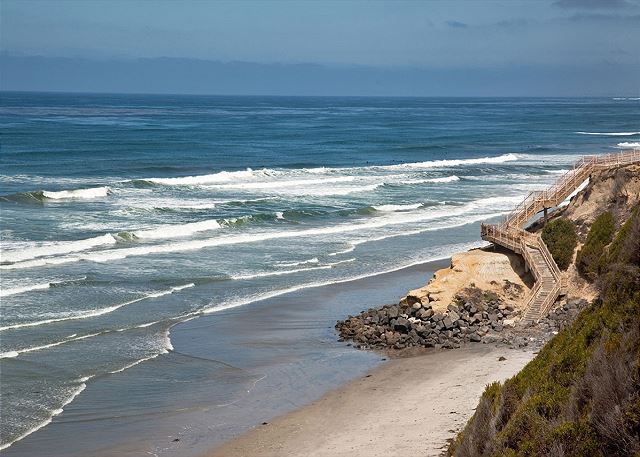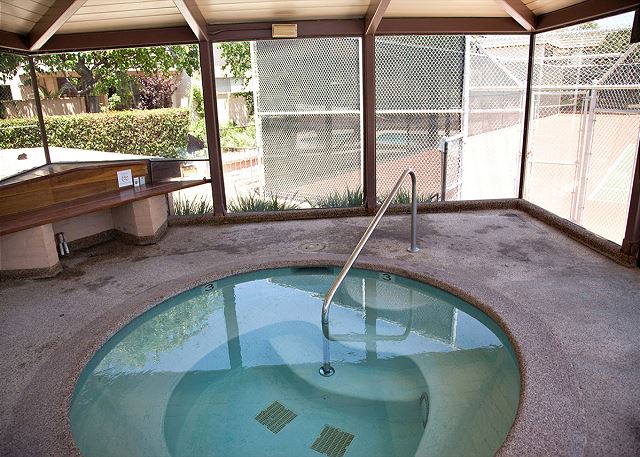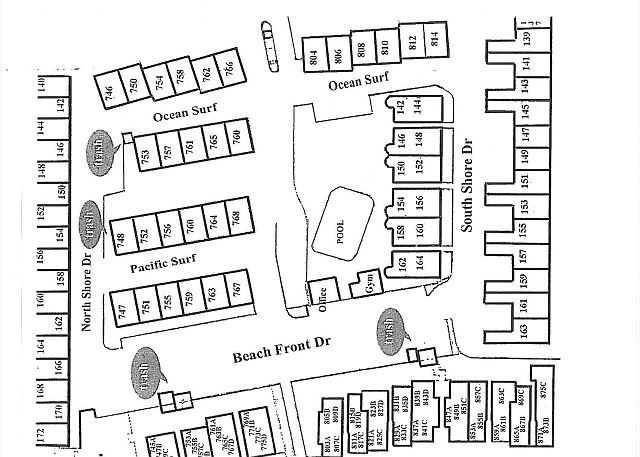 Book Your Stay!
NOTICE: For monthly rates, please contact the office at 800-378-8221 for a quote.
Select your arrival and departure dates below to reserve this unit.


In Need Of Some Beach Therapy? 1 BR Oceanfront
1 BR | 2 BA | Sleeps 3
Imagine yourself drinking your morning coffee while watching the sunrise above the ocean. Make it a reality and live the California beach life style while vacationing in this light and bright oceanfront condominium. The owner takes great pride in their home and offer guests a beautiful and comfortable "home away from home" to enjoy their long earned and deserved vacation.

This 1-bedroom, 2-bath, spacious 1050 sq. foot townhouse is located on the 2nd floor in the Del Mar Beach Club.

The bedroom is comfortable with a king size bed and an attached bathroom. The bedroom and bathrooms are amply furnished with high quality linens for your comfort. There is a washer/dryer in the unit, plantation shutters throughout.

Additional amenities include 2 assigned, garage parking spaces and public parking outside the complex. There is also WIFI and cable.

The quiet and relaxing, Del Mar Beach Club complex sits right on a bluff in Solana Beach. The complex offers two tennis courts, 4 pools (2 heated year-round) jacuzzis and private beach access. This charming seaside community is within walking distance to Fletcher Cove, Dog Beach, Belly Up Tavern, Cedros Shopping District, The Train Station, and many outdoor restaurants. It is also conveniently located thirty minutes to downtown San Diego and many famous attractions such as Sea World, LegoLand, and the San Diego Zoo.

When combined with our fabulous weather the Del Mar Beach Club complex is truly casual, coastal living at its finest and is a great place to create memories that will last a lifetime.

Please Note:

There is NO smoking allowed inside or outside of this property.
This home does not have air conditioning, but floor fans are provided for warmer days and nights.
Solana Beach has a city ordinance that requires a 7–night minimum stay.


Ironing Board
Linens
Washer & Dryer
Nearby ATM
Nearby FedEx
Nearby Golf Course
Nearby Internet Cafe
Nearby Kinkos
Nearby Post Office
Cable Television
Television
Coffee Maker
Cookware
Dishwasher
Full Kitchen
Microwave
Oven
Refrigerator
Stove
Toaster
Utensils
Beach Walking
Beachcombing
Biking
Boating
Boogie Boarding
Deep Sea Fishing
Fishing
Hiking Trails
Jet Ski Rental
Ocean Kayaking
Rollerblading
Sight-Seeing
Snorkeling
Surf Fishing
Surfing
Swimming
Tennis
Walkway to Water
Wildlife Viewing
Wind Surfing
Beach
Library
Miniature Golf
Movie Theatre
Playground
Theme Park
Area Fitness Center
Craft Shopping
Medical Services Nearby
Nearby Grocery
Outlet Shopping
Shopping
Ballet
Baseball Park
Dance
Football Stadium
Lighthouse
Military Base
Museums
Symphony Orchestra
Theatre
Exceptional Sunsets
Exceptional Views
Near Beach
November 2019

| S | M | T | W | T | F | S |
| --- | --- | --- | --- | --- | --- | --- |
| | | | | | 01 | 02 |
| 03 | 04 | 05 | 06 | 07 | 08 | 09 |
| 10 | 11 | 12 | 13 | 14 | 15 | 16 |
| 17 | 18 | 19 | 20 | 21 | 22 | 23 |
| 24 | 25 | 26 | 27 | 28 | 29 | 30 |
December 2019

| S | M | T | W | T | F | S |
| --- | --- | --- | --- | --- | --- | --- |
| 01 | 02 | 03 | 04 | 05 | 06 | 07 |
| 08 | 09 | 10 | 11 | 12 | 13 | 14 |
| 15 | 16 | 17 | 18 | 19 | 20 | 21 |
| 22 | 23 | 24 | 25 | 26 | 27 | 28 |
| 29 | 30 | 31 | | | | |
January 2020

| S | M | T | W | T | F | S |
| --- | --- | --- | --- | --- | --- | --- |
| | | | 01 | 02 | 03 | 04 |
| 05 | 06 | 07 | 08 | 09 | 10 | 11 |
| 12 | 13 | 14 | 15 | 16 | 17 | 18 |
| 19 | 20 | 21 | 22 | 23 | 24 | 25 |
| 26 | 27 | 28 | 29 | 30 | 31 | |
February 2020

| S | M | T | W | T | F | S |
| --- | --- | --- | --- | --- | --- | --- |
| | | | | | | 01 |
| 02 | 03 | 04 | 05 | 06 | 07 | 08 |
| 09 | 10 | 11 | 12 | 13 | 14 | 15 |
| 16 | 17 | 18 | 19 | 20 | 21 | 22 |
| 23 | 24 | 25 | 26 | 27 | 28 | 29 |
March 2020

| S | M | T | W | T | F | S |
| --- | --- | --- | --- | --- | --- | --- |
| 01 | 02 | 03 | 04 | 05 | 06 | 07 |
| 08 | 09 | 10 | 11 | 12 | 13 | 14 |
| 15 | 16 | 17 | 18 | 19 | 20 | 21 |
| 22 | 23 | 24 | 25 | 26 | 27 | 28 |
| 29 | 30 | 31 | | | | |
April 2020

| S | M | T | W | T | F | S |
| --- | --- | --- | --- | --- | --- | --- |
| | | | 01 | 02 | 03 | 04 |
| 05 | 06 | 07 | 08 | 09 | 10 | 11 |
| 12 | 13 | 14 | 15 | 16 | 17 | 18 |
| 19 | 20 | 21 | 22 | 23 | 24 | 25 |
| 26 | 27 | 28 | 29 | 30 | | |
May 2020

| S | M | T | W | T | F | S |
| --- | --- | --- | --- | --- | --- | --- |
| | | | | | 01 | 02 |
| 03 | 04 | 05 | 06 | 07 | 08 | 09 |
| 10 | 11 | 12 | 13 | 14 | 15 | 16 |
| 17 | 18 | 19 | 20 | 21 | 22 | 23 |
| 24 | 25 | 26 | 27 | 28 | 29 | 30 |
| 31 | | | | | | |
June 2020

| S | M | T | W | T | F | S |
| --- | --- | --- | --- | --- | --- | --- |
| | 01 | 02 | 03 | 04 | 05 | 06 |
| 07 | 08 | 09 | 10 | 11 | 12 | 13 |
| 14 | 15 | 16 | 17 | 18 | 19 | 20 |
| 21 | 22 | 23 | 24 | 25 | 26 | 27 |
| 28 | 29 | 30 | | | | |
July 2020

| S | M | T | W | T | F | S |
| --- | --- | --- | --- | --- | --- | --- |
| | | | 01 | 02 | 03 | 04 |
| 05 | 06 | 07 | 08 | 09 | 10 | 11 |
| 12 | 13 | 14 | 15 | 16 | 17 | 18 |
| 19 | 20 | 21 | 22 | 23 | 24 | 25 |
| 26 | 27 | 28 | 29 | 30 | 31 | |
August 2020

| S | M | T | W | T | F | S |
| --- | --- | --- | --- | --- | --- | --- |
| | | | | | | 01 |
| 02 | 03 | 04 | 05 | 06 | 07 | 08 |
| 09 | 10 | 11 | 12 | 13 | 14 | 15 |
| 16 | 17 | 18 | 19 | 20 | 21 | 22 |
| 23 | 24 | 25 | 26 | 27 | 28 | 29 |
| 30 | 31 | | | | | |
September 2020

| S | M | T | W | T | F | S |
| --- | --- | --- | --- | --- | --- | --- |
| | | 01 | 02 | 03 | 04 | 05 |
| 06 | 07 | 08 | 09 | 10 | 11 | 12 |
| 13 | 14 | 15 | 16 | 17 | 18 | 19 |
| 20 | 21 | 22 | 23 | 24 | 25 | 26 |
| 27 | 28 | 29 | 30 | | | |